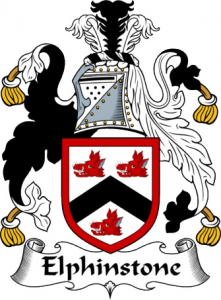 It took a lot of sleuthing and investigating, but I was finally able to identify the branch of Clan Elphinstone from Scotland that married into the Mitchelson and Brown families, from whence the Browns would land upon America's shores in 1708 in the person of one Gustavus Brown. Dr. Gustavus Brown's life story is incredible and worthy of its own biographical movie. But for the purposes of this topic, his story is a stepping stone for all those American families who can tie their ancestry back to this fascinating man and his royal Scottish roots.
Gustavus Brown's ordeal in coming to America is briefly described in "Virginia Genealogies" by Horace Edwin Hayden, 1891:
When a youth of 19 he became a Surgeon's mate, or Surgeon, on one of the royal or King's ships that came to the Colony in the Chesapeake Bay, 1708. While his ship lay at anchor he went on shore, but before he could return a severe storm arose, which made it necessary for the ship to weigh anchor and put out to sea. The young man was left with nothing but the clothes on his back. He quickly made himself known, and informed the planters of his willingness to serve them if he could be provided with instruments and medicines, leaving them to judge if he was worthy of their confidence. He began his practice of medicine at Nansemond, Md. He soon gained respect and succeeded beyond his expectations.
How such random events (a landing, a storm, a hasty departure etc)  led to Scottish royal blood taking root in America is truly wondrous. Dr. Gustuvas Brown went on to become a wealthy and influential man, whose offspring married into other families who shaped this country and fought for independence. But those stories are for another posting.
This post begins with a family Bible handed down to Dr. Brown by his mother (who remained in Scotland, where Dr Brown briefly returned before settling back in America). In this bible are notations to his heritage. And one key entry provides the connection not only to Clan Elphinstone, but also to which branch [click to enlarge]: