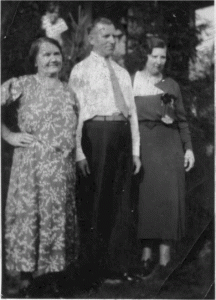 While a prior post focused on my mother's father and his roots in Romania, this post focuses on my mother's mother and her family's roots in Czechoslovakia.
It has been surprisingly difficult to trace my mother's family back to the old country in Europe, even though most immigrated between 1895 and 1905 so one would think there would be better records.
Pictured above our my grandmother's parents with her youngest sister. Left to Right: Elizabeth Cipek/Capek, Andrew (Antro) Nemmec/Namik and Anna (Namik) Penn.
Every census record I have from Ancestry.com indicates both Elizabeth Cipek and Andy Nemec claimed they were born in Czechoslovakia. Andy has a World War II registration card listing he was born in "Austria", and Elizabeth's death certificate lists her birthplace as "Hungary".
Andy was born in 1880, and Elizabeth was born in 1877.  This was during the period of the  Austrian-Hungarian Empire, when the Czech and Slovakian regions were under reign of the King of Hungary. The Kingdom of Hungary – along with the entire Austrian-Hungarian Empire – was dissolved at the end of World War I.  Today the area of interest includes Austria, Hungary, The Czech Republic and Slovakia (to name a few).
So to say they were born in Czechoslovakia (or Austria, or Hungary) does not really provide a hint to the town or city were our family hales from (unlike the Herzcog/Fleger family line, which clearly traces back to Rescita, Caras-Severin, Romania, which was part of the Hapsburg Monarch of Austria, the other element of the Austrian-Hungarian Empire).
To solve the puzzle, I began to search records for all members of the immediate Nemec/Cipek family.  Unfortunately, all the well-known members of the family – beginning with my grandmother Mary Theresa Nemmec/Namik – were born in Cleveland, Ohio after Andy and Elizabeth immigrated to the US. However, I did learn of another family member not so well known. An illegitimate son of Elizabeth Cipek named Michael (presumably after her father Michael "Cipik" listed on her death certificate shown below, click to enlarge).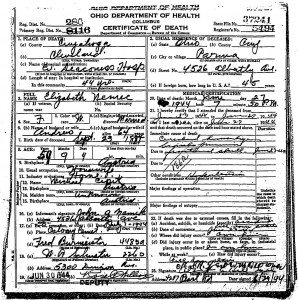 The figure below is the family tree of Elizabeth Cipek with husband Andy Namik and their children/spouses, starting with my grandparents on the far left.  Michael Cipek, who provided the hint to where the family is from, is the child on the left right (Michael's first wife is on the far left right). Click image to zoom in.
This situation is a good example of why we sometimes need to investigate side branches of a family tree to understand the whole family history.  Michael Cipek, older half-brother to my grandmother, states his birthplace was Austria in the 1920 and 1930 census records. In the 1940 census he claims it was Austria-Hungary. He was born in 1895 and immigrated to Ohio in 1911 (well after his mother Elizabeth immigrated to the US, married Andy Nemec and gave birth to 4 of her 5 children with him). So at first glance there does not seem to be any new information.
But one record I found did provide a key detail, and that was Michael's World War I draft registrations, shown below (click image to enlarge):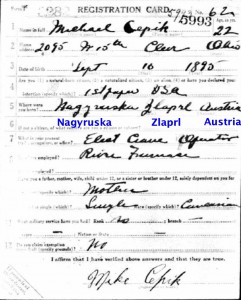 On this document Mike "Cepik" was very clear on where he was born: "Nagyruska", Austria.  I cannot decipher the second word (what I transcribed as "Zlaprl"). [Note: this document also notes Michael Cepik had submitted his intention to be naturalized, since he denotes "1st Paper USA" under his citizenship. I am on the hunt for those papers, so more may come out].
It took a little more internet searching than usual, but I ran across this fascinating website that lists the various names for locations in this part of the world. A part of the world where a location can have German, Slavik and Austrian variants over time. During the Austrian-Hungarian Empire there is a small village called "Nagyruszka", which today goes by the name Nový Ruskov:
OLD NAMES of the village(town):
1964– Nový Ruskov
Malý Ruskov: 1773 Kis-Ruszka, Ruskow, 1786 Kisch-Ruska, Malý Ruskow, 1808 Kis-Ruszka, Malé Ruskowce, 1863–1913 Kisruszka, 1920 Ruskov, 1927–1964 Malý Ruskov
Veľký Ruskov: 1773 Nagy-Ruszka, Ruskow, 1786 Nagy-Ruska, Welký Ruskow, 1808 Nagy-Ruszka, Welké Ruskowce, 1863–1913 Nagyruszka, 1920 Ruskovce, 1927 Veľký Ruskov, Velikij Ruskov, 1936–1964 Veľký Ruskov
The website also lists the top 100 surnames (using various ethnic spellings) from the 2005 phone book, which includes:
Capik, Czapik, Csapik, Capik, Czapik, Csapik, Capik, Czapik, Csapik
As noted at the website, Nový Ruskov has merged with Veľký Ruskov and in 2005 only had a population of 637 people. It is a very small village, to say the least. Given how small this village is, it seems very reasonable that Elizabeth Cipek/Capek, her father Michael and her son Michael were all from the Slovakian village of Nový Ruskov – Veľký Ruskov.
I was able to translate a few versions of the village name and what I found was Nový Ruskov (Nagyruska) means "New Russia", while Veľký Ruskov means "Great Russia".  So there is clearly not just a Slovakian heritage, but also possibly Russian.
Nový Ruskov-Veľký Ruskov can be found in the Zemplin County of Slovakia:
Zemplén (Hungarian: Zemplén, Slovak: Zemplín, German: Semplin, Latin: Zemplinum) was an administrative county (comitatus) of the Kingdom of Hungary. Its territory is now situated in eastern Slovakia under the name of Zemplín. Most of the county's territory is in Slovakia except the southern portions of the county, that are in Hungary, in Borsod-Abaúj-Zemplén County.
I was able to find a 1910 map of Zemplin County and – after finding Nový Ruskov – Veľký Ruskov using Google Earth – was able to locate the village shown by the green arrow just northwest of Trebišov (which was called Tőketerebes from 1873–1913 and is so depicted on this map). Click image to enlarge: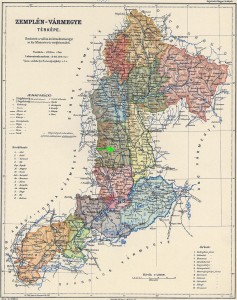 Here is the Google Earth map of  Nový Ruskov – Veľký Ruskov in Slovakia today (blue box with white X upper right):
Here is a view of Nový Ruskov – Veľký Ruskov (top blue box with white X) in Slovakia and Rescita in Romania (bottom blue box with white X) where my grandfather's family was from).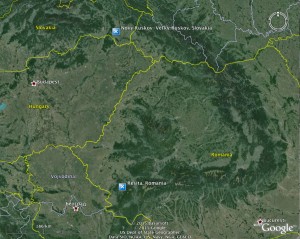 And here is the same view zoomed out to give a better perspective.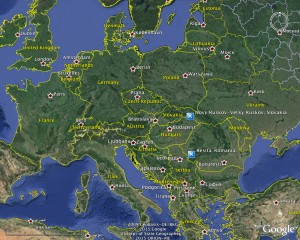 Elizabeth Cipek/Capek immigrated to the US in a different year from her husband Andy Nemec.  So there is no reason to believe the Nemecs are from the same area.  They will hopefully be the topic of another post, but here is where that story begins. It is with my grandmother's birth certificate from 1902 in Cleveland, Ohio.
Here both Andy Nemec and Elizabeth Cipek list their "nativity" as "Ungarn". Ungarn is German for "Hungary".  However, there is also an Ung County in Slovakia, adjacent to Zemplin County to the east.  And one of its subdivisions is called Ungvár:
The city gets its name from the Uzh River, which divides the city into two parts (the old and new sections), while horod (город) is Rusyn for city, coming from Old Slavonicgrad (градъ). However, this name is a recent construct, and has been used only since the beginning of the 20th century. Before then, the city was known as Ungvár, also spelled Ongvár, Hungvár, and Unguyvar, a name derived from Ung, the Hungarian name for the Uzh (as well as the surrounding county) and vár, meaning castle, fort.

…

The greatest influence on Uzhhorod among the political events of the 19th century was made by the Hungarian Revolution of 1848-1849, during which the native Hungarian nobility sought both get free of the Austrian Empire and to assert their right to dominate all other peoples of Hungary. 27 March 1848 was officially celebrated in the city as the overthrow of the monarchy in Hungary.
It is possible that the Nemecs were from the same general region, but I have nothing but conjecture and the fact that Andy and Elizabeth found each other in Ohio and were married.  In those days, being from the same European heritage was the basis of many marriages for new immigrants. Hopefully more hints will come forth.
Here is the lineage from Elizabeth Cipek's father Michael to me for context.