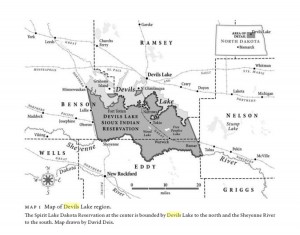 Updated 12/12/14: Added section on the meaning of Minnewauken and Devils Lake
[Map Reference: "Encounter on the Great Plains: Scandinavian Settlers and the Dispossession of Dakota Indians, 1890-1930", by Karen V. Hansen, Oxford University Press, Sep 18, 2013]
This post presents one of my wife's ancestors through her father's lineage: Gerard Hubert Roers
He is one of the first ancestors I traced back to Europe, but his lineage was difficult to establish since he (as many in her her family did) lived just beyond the boundaries of the United States along side Native Americans. In this case, along side the Sioux of North Dakota. Specifically, near the Spirit Lake Reservation along Devils Lake, ND. The map above shows the area this enterprising young man from Holland settled, before dying suddenly of appendicitis. The above referenced book outlines the migration of Dutch and Norwegian immigrants into Minnesota and the Dakotas during the last half of the 1800's.
Update: interesting note: Devils Lake and Minnewauken, SD originate from the same source:
The Sioux called the lake mni wak'áŋ chante, which separately translate as mni (water), wak'áŋ (spirit), and chante (bad). Early European-American settlers thought this meant "Bad Spirit Lake", or "Devils Lake." The "bad" referred to the high salinity of the lake, making it unfit to drink, and "spirit" meant the mirages often seen across the water. The Christian concept of the devil was not present in the Sioux religion.
mni wak'áŋ = Sioux for Minnewauken, SD – end update
If you click on the map above (to access a larger version) you will find Devils Lake (light grey) across the top of the Indian Reservation (dark grey). In the lake, you will find Grahams Island which is partially in the reservation. It is on this Island Gerard Roers raises his family. The source of this date is the "Collections of the State Historical Society of North Dakota", printed in 1910.  On page 201 (original document page numbers) there is a section on "THE SETTLEMENT OF GRAHAM'S ISLAND." On page 203 there is a list of the original settlers, and we find one "Girard Rowers".  He is listed as "Dutch" and having come to the island in 1883 from Fort Trotten, ND. Here is the citation: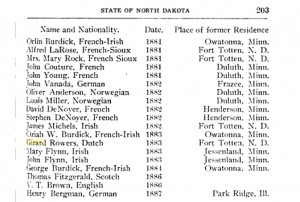 Graham's Island was a unique trove of natural resources in the region (per this book):
When the island was permanently settled, early in the eighties, the inhabitants found there an environment typical of an eastern or middle state, and radically different from that of the usual prairie settlement in North Dakota. In the first place, this is a wooded region and in those early days one might almost say forested, for there were vast groves of oak, ash, elm, and the lesser trees. The woods abounded in game, deer were numerous and a few elk were found. There were a great many timber wolves and red foxes, in the ponds and coulees were countless muskrats, and occasionally mink were taken. Geese and ducks of many varieties, swans, cranes, pelicans and loons were seen in great numbers. During the winter months, thousands of prairie chickens flocked into the timber to feed upon the berries of the poison oak. The lake fairly teemed with fish, there was but one variety, pickerel, and, on an average, they would weigh from four to seven pounds apiece. They were taken in great numbers with hook, spear and net.

A great many kinds of wild fruit were found growing in abundance on the island. Several kinds of wild plums, choke cherries, whiskey cherries, June berries, red raspberries, strawberries, goose- berries, currants, high-bush cranberries, and other minor fruits made this region famous to the people of several counties.

…

A great many kinds of wild fruit were found growing in abundance on the island. Several kinds of wild plums, choke cherries, whiskey cherries, June berries, red raspberries, strawberries, goose- berries, currants, high-bush cranberries, and other minor fruits made this region famous to the people of several counties.
Initially Gerard Roers had 163.6 acres covering the west end of Grahams Island.  From the BoLM records I was able to map the regions (and most times the aliquots) of his land patents using Google Earth.  The first image below shows the Roers land in 1890 (click to enlarge):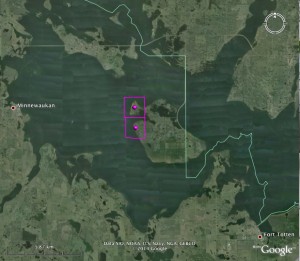 As can be seen the young Roers family were located on the Western side of the island (which might explain my wife's obsession with sunsets over water). The Roers were very successful working the land here, because by 1893 they had purchased another 160 acres on the mainland (the green dots are the specific aliquots, while the purple box is the "Section" of a Township-Range):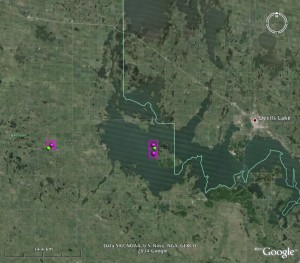 By 1895 the Roers were able to purchase another 158.6 acres, again on the mainland: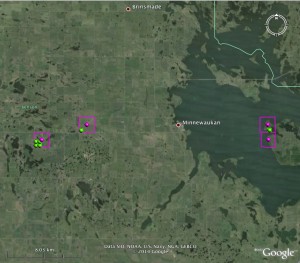 I was able to finally track down where Gerard Roers came from prior to Devils Lake and Fort Trotten. In an 1880 census he is found in Saint Paul, Minnesota – where we discover from city directories he brews beer (is a Malster). Here is the census record from Ancestry.com: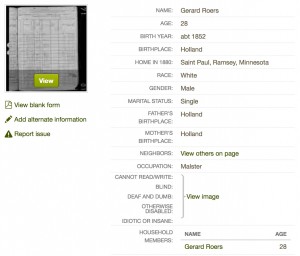 The record clearly indicates Gerard Roers was born in Holland, as were both his parents.  Once I traced him to St Paul, I found he has a number of family members in Minnesota and North Dakota, including a brother John G (Goswijn) Roers who also works in the brewery.  Many of these other Roers head off to Douglas, Minnesota while some stay in St Paul. This extended family is (thankfully) well documented on Ancestry.com through descendants of these other Roers. There is a nice genealogy site here and one here (in Dutch).
So what we now know (which we did not know a week ago) is my wife's 2nd Great Grandfather was born in Broeksittard, Sittard, Netherlands. What is insanely coincidental about all this is that my wife and I visited this very region in Oct/Nov of 2011. We were on a business trip to Brussels, but stayed the last weekend with some dear family friends in Holland (Thanks Patrick and Amy!).  Little did we know then that we were just minutes away from my wife's ancestral home:
Gerard's father – Jan Hendrik Roers – brings most of the family to America on May 15th, 1862 (arriving in New York City).  They came over on a ship called "Chace", which departed from Antwerp, Belgium.
From the city records of St Paul, we know Gerard lived and worked there from 1878-1881. He must have made some good money as a Malster to be able to purchase the land on Grahams Island in 1883.  Gerard was the youngest of 10 siblings (not all of whom came to America). Assuming the genealogy done by the other branches of the Roers is accurate (and I have no reason not to), the oldest son in the family was named "Johan Gerard Hubert Roers" (1829 – 1848). He dies well before the family comes to America, and it seems the younger "Gerard Hubert Roers" was named after is deceased older brother.  Which, by family traditions of the time, was actually the name of Gerard's grandfather (Gerardus Reurs from Germany).
The extended family, per the tradition of naming the eldest children after their grandparents, tend to share common names.  One of these is Gerard/Gerardus.  Another common name is Mechtildis/Mathilda.  Others we see a lot of are Anna and Marie (which come down through my wife's line for a couple of generations).  I have the family below for 4 generations. It is obvious how these names are recurring, and why I am confident this is the family of Gerard Roers of Grahams Island, ND.
Sometime after 1885 Gerard Roers meets Barbara Katherin Heubschwerlen, my wife's 2nd Great Grandmother. According to her 1900 census she arrived from Canada in 1885.  She hales from Ontario, Canada and her family lists themselves as French or French Canadian.
While in the Devils Lake area they have three kids:
Anna Marie Roers (1888-1963) who later marries Orrin E Blake (my wife's great grandparents)
Gerard Roers (1890 – )
Mathilda Roers (1892 – ) who marries a Roy Phillips in 1908 at the age of 15
I cannot find anything on the other two children, they pretty much disappear.
Tragedy will hit the young Roers family sometime around 1896-1897. We found a type-written record on Ancestry.com that outlines what happened to Gerard Roers:
 After their marriage Barbara and Gerald lived on a homestead on the west side of Graham [sic] Island on Devils Lake. Compared to many places in Benson Co. Graham [sic] Island was a beautiful place. It was covered with timber and bush that gave its residence both human and animal protection from the severe blizzards that raged in winters. In summer there was always a bountiful supply of wild berries and fruit. People came from miles around to pick their winters [sic] supply. It was quite a social occasion. The timber afforded building material and fuel not only to the island folk but to those who lived on the praire [sic]. The island homesteaders both sold wood on their farms  and hauled it to town to sell. The going rate was about a dollar a cord on the island and three to four dollars a cord for that that [sic] was hauled to town by oxen. It was hard work but these people were accustomed to hard work and it gave them an added much needed income.

When Gerard was in middle age he came down with was then called "Compaction of the bowels" now known as appendicitis. He was in a terrible state after suffering for days. The doctor from Minnewauken finally came to see him and realizing that the man was probably going to die he resorted to a kill or cure remedy ( a dose of quick sil[v]er that was supposed to either penetrate the blockage or kill the patient). Well Gerard died while the doctor was still there. Barbara stayed on with her childrens [sic] help near escaping death themselves in a bad bush fire. Thanks to their neighbours [sic] and their own hard work their home and outbuildings were saved.
After Gerard's unfortunate demise, Barbara meets and then marries Frederick "Fred" Nelson Rivette in 1898  at Foston, MN . The kids are adopted by Fred and are found living as a family in 1900 in Lamars, MN.
And so ends the tale of Gerard Hubert Roers.  In the other Roers family trees Gerard just disappears.  There is no record of his marriage or death – just the 1880 census record. It would seem the Roers are not aware of their cousins who moved to Naples, Idaho, then Coeur D'alene, Idaho and then Spokane, Washington.
As promised, here is the family tree going back to Gerardus Reurs: