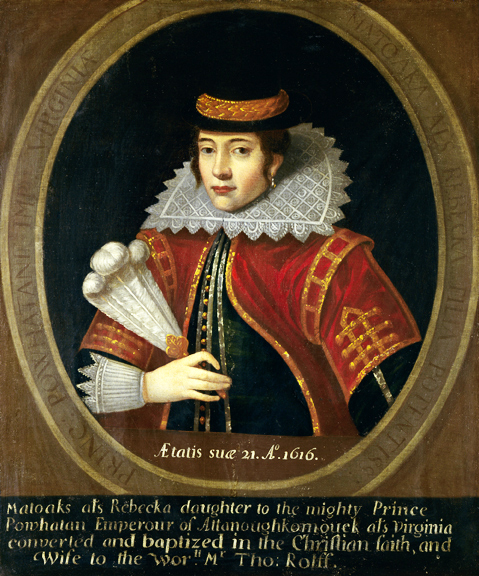 It is always exciting when your genealogy research brings your family in (near) contact to major historical events and individuals. This post is about such a discovery!
Note: throughout this post are links to Wikipedia pages which are worth exploring in their entirety.  I only capture here the elements required to provide context. I would review these in detail after reading this post.
The end of this post has links to two documents that were used to trace the family back to the origins of Virginia.

Pictured above is Pocahontas, the famed Powhatan Indian Princess.  The inscription of this famous portrait reads:
Matoaks aľs (alias) Rebecka daughter to the mighty Prince / Powhâtan Emperour of Attanoughkomouck aľs (alias) virginia / converted and baptized in the Christian faith, and / wife to the wor[shipfu]ll Mr. Joh. Ralff
Pocahontas is one of the most famous native Americans of all time:
Pocahontas (born Matoaka, known as Amonute, and later known as Rebecca Rolfe, c. 1595 – March 1617) was a Native American[1][2][3] notable for her association with the colonial settlement at Jamestown, Virginia. Pocahontas was the daughter of Powhatan, the paramount chief[1] of a network of tributary tribal nations in the Tsenacommacah, encompassing the Tidewater region of Virginia. In a well-known historical anecdote, she is said to have saved the life of an Indian captive, Englishman John Smith, in 1607 by placing her head upon his own when her father raised his war club to execute him. Some historians have suggested that this story, as told by Smith, is untrue.[4]

Pocahontas was captured by the English during Anglo-Indian hostilities in 1613, and held for ransom. During her captivity, she converted to Christianity and took the name Rebecca. When the opportunity arose for her to return to her people, she chose to remain with the English. In April 1614, she married tobacco planter John Rolfe, and in January 1615, bore their son, Thomas Rolfe.[5]
What is not as well known as the stories of Jamestown, Captain Smith and the Powhatan Indians is how Rebbecca "Pocahontas" Rolfe and her husband John established one of the first settlements in America – a place called Varina:
Varina was named for Varina Farms, a plantation established by John Rolfe on the James River about 45 miles upstream from the first settlement at Jamestown in the Virginia Colony, and across the river from Sir Thomas Dale's 1611 settlement at Henricus. Varina became the county seat of Henrico when it was formed as one of the eight original shires of Virginia in 1634, and remained in that capacity until 1752, when a new courthouse was built at Richmond.
Henricus is the site where Pocahontas and John Rolfe met and were married. Its is also the origin of the County of Henrico – which initially included Richmond, the capitol of Virginia:
The "Citie of Henricus" — also known as Henricopolis, Henrico Town or Henrico — was a settlement in Virginia founded by Sir Thomas Dale in 1611 as an alternative to the swampy and dangerous area around the original English settlement at Jamestown, Virginia. It was named for Prince Henry, the eldest son of King James I.

The site of Henricus later became part of the Shire of Henrico (1634), renamed Henrico County in 1637.
A map showing Henricus, Varina and other local historic sites can be found here.
So how does Henrico County and Varina Farms relate to the Williams family? To answer that question we pick up the story at the end of the last post on the Williams lineage, and the source of the name "Peyton" that was handed down through 4 generations of Williams:
The hint Aunt Sandee provided was recalling that the middle name "Peyton", which spans four generations down to my father-in-law, came "from a Virginia family thread". Well the only Virginia thread that makes sense is Nancy Ward – wife of David Williams and mother of John Peyton Williams, the first to have the middle name.

…

At this point I realized there was something here, too many coincidences in terms of names, locations, etc. So I estimated a marriage date between a Susan Peyton and Rowland Ward in Kanawha County Virginia. It was not long afterwards one of those Ancestry.com leafs showed up and confirmed my guess.  You can find the original and a transcribed copy at the West Virginia vital records site.
The "Peyton" lineage has been a real challenge (and will be the subject of a future post),  but the lineage of the "Ward" line was not as tough, though it was a challenge. To recap, the family  from Leslie Williams to Rowland "Rollin" Ward III is:
Now lets begin our journey further back in time. The snippets listed below are from our Ancestry.com tree, and the "lifestory" view that site generates.
We begin with Rowland Ward III:
When Roland "Rollin" Ward [III] was born about 1778, in Virginia, his father, Rowland [Jr], was 20 and his mother, Sarah, was 21. He married Susey Peyton and they had three children together. He then married Mary "Polly" Adcock on March 7, 1817, in Kanawha City, West Virginia. He died on August 24, 1853, in Tippecanoe County, Indiana, having lived a long life of 75 years, and was buried in Montmorenci, Indiana.
Note that Rowland Ward moves to Tippecanoe with his family in the 1820's so his daughter Nancy Ward can meet and marry David Williams. Rowland Ward the III is obviously the son of Rowland Ward Jr:
When Rowland Ward [Jr] was born in 1758 in Amelia County, Virginia, his father, Rowland [Sr], was 33 and his mother, Rebeckah, was 27. He married Sarah "Sally" on April 7, 1777, in Amelia County, Virginia. He had three children by the time he was 20. He died on October 23, 1800, in Amelia County, Virginia, at the age of 42.
Sarah "Sally" Ward was a first cousin of Rowland Jr, her father being Henry Ward, brother of Rowland Ward Sr:
When Rowland Ward [Sr] was born in 1725 in Amelia County, Virginia, his father, Benjamin, was 40 and his mother, Ann, was 17. He married Rebeckah Jane Jones on November 24, 1752, in Amelia County, Virginia. They had five children in 10 years. He died on October 23, 1800, having lived a long life of 75 years.
Please note we have extended the family tree back to the early 1700's already! But even more importantly, Rowland Ward Senior and Junior both fought in the American Revolution.  The following is from the "Historical Register of Virginians in the Revolution" [click to enlarge]:

So now the Williams family (and its branches) can claim they are sons and daughters of the American Revolution.
Next we have Benjamin Ward – 7th great-grandfather of my wife:
When Benjamin Ward was born in 1685 in Henrico County, Virginia, his father, Seth, was 24 and his mother, Ann, was 21. He married Ann Anderson in 1729 in Henrico County, Virginia. They had five children during their marriage. He died on July 17, 1732, in Henrico County, Virginia, at the age of 47.
We have finally made the connection to Henrico County, and are now in the 1600's, so we are closing in on our subject. As noted, Benjamin is the son of Captain Seth Ward:
When Captain Seth Ward was born in 1661 in Henrico County, Virginia, his father, Richard, was 21. He married Ann Hatcher on October 24, 1681, in Henrico County, Virginia. They had five children in 10 years. He died on December 24, 1707, in Henrico County, Virginia, at the age of 46.
Seth Ward was a Captain of the Virginia Militia.  Most of what is known about him is from records related to his sons who were orphaned when he died, and how their guardians controlled and then passed on the family properties (see references at the end of this post). We then move onto his father, Richard Ward:
Richard Ward was born about 1640, in Varina, Virginia, the child of Seth. He had three sons and one daughter between 1661 and 1667. He died in 1682 in Henrico County, Virginia, at the age of 42, and was buried there.
We have arrived in Varina!  When Richard was born, Varina was the capitol of Henrico County (established 3 years earlier in 1637).
And finally, we come to the probable "Immigrant Ward" – Seth Ward, father of Richard Ward. At this point I will copy information from Ward family research produced in the early 1900's: Ward Family; Source: The William and Mary Quarterly, Vol. 27, No. 3 (Jan., 1919), pp. 185-199:
The earliest recorded mention of Seth Ward is as follows: By order of Court 11 Feby. 1632 that all such planters or persons whatsoever who shall have no land due unto them by adventure or otherwise should have certain quantity granted unto them by lease for 21 years, therefore under this provision, to Seth Ward, of Varina, the upper parts, planter, three score acres of land in the upper parts parts in corporation of Henrico; adjoining Daniel Sharley, Powhatan's Three, three mile swamp.
There are many other references through out the later generations of Wards next to or from Varina, but Seth and Richard are easily the key ones.
It is not clear if the Seth Ward in this record of 1632 is the immigrant, but the fact he is referred to as "Planter" would seem either he was or his father was:
"Ancient planter" was a term applied to early colonists who migrated to the Colony of Virginia in what is now the United States, when the colony was managed by the Virginia Company of London. They received land grants if they stayed in the colony for at least three years. Under the terms of the "Instructions to Governor Yeardley" (issued by the London Company in 1618), these colonists received the first land grants in Virginia.[1][2]
Side Note: It turns out there is one more "Ward" in the records of early Virginia – a John Ward – who is found in the muster records of 1624/25.  His specific record can be found here:
Name: John Ward
Muster: Ward John
Status: head
Location: beyond Hampton River Beinge the Companyes land
Corporation: Elzabeth Cittie
Age:
Ship: Elzabeth
Date of Arrival: 1621
There is no connection I have found (yet) between John Ward and Seth Ward. They could have been brothers, father and son, or completely unrelated. Many of the records of Henrico County were lost in 1677, so it is impossible to say. That is why this post has the caveat "Near-Neighbor" in its title.
But now back to Pocahontas.  It is possible the Ward's of Virginia were in the New Country when Pocahontas lived – but it is just as likely they were not. This is because the Rolfe's visited London in 1616, where Pocahontas became ill and passed away in 1617:
In 1616, the Rolfes traveled to London. Pocahontas was presented to English society as an example of the "civilized savage" in hopes of stimulating investment in the Jamestown settlement. She became something of a celebrity, was elegantly fêted, and attended a masque at Whitehall Palace. In 1617, the Rolfes set sail for Virginia, but Pocahontas died at Gravesend of unknown causes. She was buried in a church in Gravesend in the United Kingdom, but the exact location of her grave is unknown.
John Rolfe died in an Indian attack in 1621/22. Their son Thomas Rolfe (born 1615)  did finally inherit Varina around 1640 when he came of age and moved back to Virginia from England.  So it is likely the Ward's and Rolfe's were neighbors during the very early years of the colony, but it is not clear the Wards were at Varina when Pocahontas was. It all depends on when they arrived in Virginia, and where. We know Varina was originally "settled" in 1612.
As mentioned above, the Ward Family genealogy is laid out in a two part series from the Quarterly of William and Mary:
This is the source of much of the lineage from Rowland Ward III to Seth the Immigrant.
It is interesting to note the above research was NOT focused on tracing the Ward family from Amelia County VA into Kanawha County VA.  In fact it seems to lose track of that branch. The connection was made possible by working backwards from Nancy Ward, wife of David Williams, to Rowland Ward III.  This connection is not in any doubt, since the records of Nancy's father – Rowland Ward III – clearly map from Tippecanoe, IN back to Kanawha County VA, and from there to Amelia County. So this connection is not documented, but is also not in much doubt.
Here is the full line of descent – as we know it today: