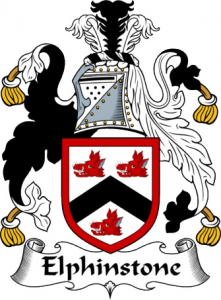 It took a lot of sleuthing and investigating, but I was finally able to identify the branch of Clan Elphinstone from Scotland that married into the Mitchelson and Brown families, from whence the Browns would land upon America's shores in 1708 in the person of one Gustavus Brown. Dr. Gustavus Brown's life story is incredible and worthy of its own biographical movie. But for the purposes of this topic, his story is a stepping stone for all those American families who can tie their ancestry back to this fascinating man and his royal Scottish roots.
Gustavus Brown's ordeal in coming to America is briefly described in "Virginia Genealogies" by Horace Edwin Hayden, 1891:
When a youth of 19 he became a Surgeon's mate, or Surgeon, on one of the royal or King's ships that came to the Colony in the Chesapeake Bay, 1708. While his ship lay at anchor he went on shore, but before he could return a severe storm arose, which made it necessary for the ship to weigh anchor and put out to sea. The young man was left with nothing but the clothes on his back. He quickly made himself known, and informed the planters of his willingness to serve them if he could be provided with instruments and medicines, leaving them to judge if he was worthy of their confidence. He began his practice of medicine at Nansemond, Md. He soon gained respect and succeeded beyond his expectations.
How such random events (a landing, a storm, a hasty departure etc)  led to Scottish royal blood taking root in America is truly wondrous. Dr. Gustuvas Brown went on to become a wealthy and influential man, whose offspring married into other families who shaped this country and fought for independence. But those stories are for another posting.
This post begins with a family Bible handed down to Dr. Brown by his mother (who remained in Scotland, where Dr Brown briefly returned before settling back in America). In this bible are notations to his heritage. And one key entry provides the connection not only to Clan Elphinstone, but also to which branch [click to enlarge]:
The citation notes Dr Brown's mother was Jean Mitchelson, who was the daughter of George Mitchelson and Isabel Elfoston, daughter of "Soloms". As I am sure many descendants of Dr Brown and his wife Frances Fowke have discovered, there is no "Soloms" in Scotland. None. Especially 7 miles west of Edinburgh.
In fact, if you research Clan Elphinstone on typical websites you find their family roots are actually east of Edinburgh in East Lothian:
The 'de Erth' family took their name from the lands of Airth which lie close to the barony of Plean in Stirlingshire.[2] This family probably erected the first Plean Castle.[2] The de Erth family ended in an heiress and lands that were acquired by her husband near Tranent near East Lothian were probably named after the heiress's family.[2] The name first appears in about 1235 in East Lothian in a deed by Alanus de Swinton in which a mention is made of the name 'de Elfinstun'.[2] It is likely that de Swinton's son, John, who owned the lands, went on to become John de Elfinstun.[2]
So realizing Dr Brown's bible clearly indicates his grandmother Isobel Elfoston (Elphinstone) is from the west of Edinburgh, I began a search of historic maps of the region (which can be found at this site: "National Library of Scotland: Map Images"). Imagine my wonder when I found not "Soloms" west of Edinburgh, but a site that had these various spellings throughout the ages: "Selmys", "Selims", "Selms" and "Selmes".
It is obvious the the cursive of "Selims" could easily be transcribed wrongly as "Soloms", which I hope can be confirmed by inspection of the Brown family bible if it still exists.
Here are the historic maps of an area of East Lothian, which over the centuries was called "Calderclier", East Calder" and "Kirknewton":
First is a map of the area from around 1682, It was made by John Adair and appears to be an initial draft for a more detailed version to come out again in 1735 [click to enlarge all pictures]:
Here is a version zoomed in on Selyms: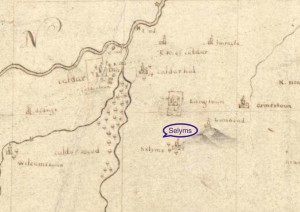 On this early map Selyms (actually Selmys) is a few miles Southeast of Calder and just west of Kirknewton.  It is next to Calderhall, a place connected to the Elphinstone Clan through records of the time. Other famous Scottish families can trace their roots to this region, including: Douglas's and Sandilands (Lord Torphichen). It is also almost exactly 7 miles west of Edinburgh – as Dr. Gustavus Brown's bible denotes.
As noted previously, in 1735 an updated map of the region was produced by John Adair, and in this version the spelling as changed from "Selyms" to "Selim":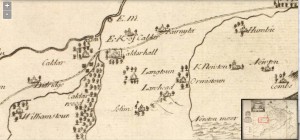 It looks like it was first written as "Selims", and then the 's' was erased. In 1744, John Elphinstone and Thomas Smith produced a 'corrected' version of John Adair's map. If anyone would know the spelling of "Selims" it would be an Elphinstone, because the family had only recently been lords of these lands.
Note: The Brown bible entries all seem to be from 1726 onward. Which means the bible was probably retrieved by Dr. Brown on his return to Scotland. It is very doubtful he had it on his voyage when he was left behind in America in 1708. And even less likely he took the bible to shore when he was marooned. So the spelling of this region is important at this time in history.
In 1773 Andrew Armstrong produced a map of all three Lothians, and here we find East and West "Selmes":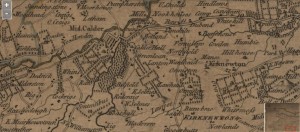 Finally, we have a map from 1828 by Christopher Greenwood, William Fowler and a T. Sharp, which shows a Selms and extended N[orth] Selms, including a road then called Selms Common:
So even though we have found the region of Scotland called Selmys, Selims, Selms and Selmes  that is the likely home of Isobel Elfonstun – how do we connect this to Clan Elphinstone?
That is actually quite easy. There are many Scottish records related to the Elphinstones of Selmys or Selmes. Even better is a two volume history of the Clan Elphinstone produced in 1897 by Sir William Fraser of Edinburgh titled: "The Elphinstone Family Book of the Lords Elphinstone, Balmerino and Coupar". Commissioned by the family, it recounts the history of Clan Elphinstone in incredible detail, relying heavily on records held by the many branches of the family at the time. This very important historic record spans back to  1295, and the first Elfinstuns of East Lothian. One whole chapter of the 2nd volume details the Elphinstones of Selmys/Selmes.
Elphinstone Family Book Volume 1Elphinstone Family Book Volume 2
Since it took two large volumes to catalogue this great Scottish family, here I will only relate the pieces that connect to that area of East Calder known as Selmys or Selmes.  Please note that Elphinstones were lords of many lands and properties throught Stirling and Lothian, including Calderhall. So it is important to focus on the lineage of Selmys, which goes back to the very origins of Clan Elphinstone, when their family "castle" was located east of Dalkeith. The map below shows three primary areas of Elphinstone enclaves, though these are not all the enclaves by far.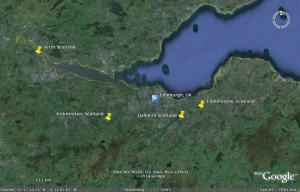 The yellow pins show (from right to left) the original Elphinstone enclave east of Dalkeith (next yellow pin) and Edinburgh (blue "X"), the enclave of my interest in modern East Calder/Kirknewton, and lastly Airth where the primary bloodline has been located for many centuries. The following graphic outlines the Lothian counties of interest and highlights these same locations:
Briefly, the original family lands in East Lothian were lost in 1435-1471 when Sir Alexander Elphinstone, Knight and head of Clan Elphinstone and its properties, died in The Battle of Piperdean Sept 10, 1435. Sir Alexander had no male heir, and his younger brother Henry lost the lands in 1471 to Sir Alexander's oldest daughter Agnes.  Agnes married Gilbert Johnston, and for centuries the family was known as the Johnstones of Elphinstone in East Lothian.
Henry and Sir Alexander Elphinstone were 8th generation Elphinstones, sons of a William Elphinstone. They had one brother William who was cannon of Glasgow and deacon of Teviotdale. [William's son – also named William – would go on to become the famous Bishop Elphinstone of Aberdeen).
Henry Elphinstone (of Pittendreich, Stirlingshire) became the new leader of the Clan and began to rebuild the family holdings around Airth, Stirlingshire. He had three sons (in order of age):
James Elphinstone of Pittendreich who married Isabella Bruce (descendant of Robert de Bruce)
Laurence Elphinstone – of Selmys (or Selmes).
John Elphinstone (bailic of Glasgow)
Obviously it is Laurence we are interested in, as he is the first Elphinstone to be associated with the area Selmys/Selmes. In the Family Book of Elphinstone it is noted that he was a Burgess of Edinburgh, but also that:
He held the lands of Newlands, part of which he conquest from the "commonitie" of Selmes, and part from John Graham.
From the same source, in a charter dated 1466 he is described as:
Laurentio de Elphinstoune de Selmis, burgense de Edinburgh
and finally he is mentioned in another charter in 1478 after his death:
Andrew Elphinstone of Selmes, the son of Laurence, had a charter from James, Earl of Morton, of 140 acres of the common of the " commonitie" of Calderclear, part of which, or lxxx acres, was conquest from John Grahame by Laurence Elphinstone of Selmes, and a similar part conquest by him of the "commonitie" of Selmes, which 140 acres were called the Newlands, and were resigned by Laurence in favour of Andrew, his son, who was to hold the same in fee and heritage of the Earl of Morton. The charter is dated 8th April 1478.
This is where the Elphinstone (Elfoston, Elphinstoune) family begins it reign of Selmys. In Part 2 I will connect Laurence Elphinstone of Selmis to Isobel Elfoston of Soloms.
Here is the ancestry line from myself (and my family) to Isobel Elfoston: