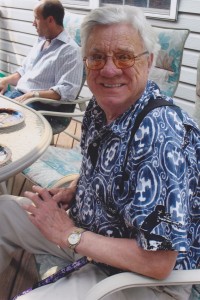 By Alan John Jeffries
John Jeffries Junior passed away peacefully today (May 24th 2014) in Reston, Virginia. He is survived by his wife of 70 Years Corinne (Fleger) Jeffries; daughter Melinda Lasater; sons Alan Jeffries and Robert Jeffries; granddaughters Ashley Nikolic, Danielle Hedgepeth, Alyse Lasater, Jackie Jeffries, and Amber Jeffries; and grandson Sean Jeffries; and great grandson Cameron Hedgepeth; as well as many loving cousins, nieces and nephews.
This post presents a mini-biography of our father so others can learn about this great man.
John was born on October 28, 1921 in the wild and wonderful hills of Grafton, West Virginia.  His mother, Veda Pearl Shriver, can trace her family roots back to the early pioneers of this one time frontier of Virginia. His father, Virgil Luther Jeffries, also can trace his family back to the mid 1800s. In future posts I hope to explore the family histories of John's parents. But today we focus on John.
John was the second of 13 children his mother brought onto this Earth. His siblings were (from oldest to youngest):
Homer Addis Jeffries (1920 – 1976)

Cora June Scline (Jeffries) Shoemaker (1924 – )

Doris Genevieve (Jeffries) DeBarr (1924 – 2008)

Ruth Cleona (Jeffries) Barney (1926 – 2004)

Francis Geraldine (Jeffries) Sheets (1928 – 2012)

Thomas Dale Jeffries (1930 – 1949)

Wilburta Mae (Utt) Adkins (1934 –  )

Wilbur James Utt (1936 – 2006)

David Lee Utt (1937 – 1992)

Clifford Faye Utt (1938 – 1999)

Richard Keith Utt (1942 – 2005)

Claudia Jean (Utt) Webb (  –  )
 John first attended the Lynn Chapel School for elementary grades, and then Grafton High School.
At 18 years of age he decided to join the US Navy and the war effort against Germany. The following picture is of John and his elder brother Homer just before he went to enlist in Baltimore, MD in 1939.
He completed basic training in Norfolk, VA and after a week of leave, boarded the USS Wyoming for Guantanamo Bay, Cuba to join the USS Texas by January 1940. John was on the USS Texas from 1940-1942.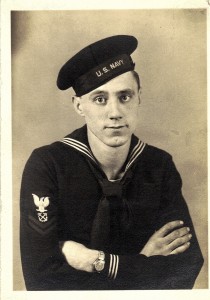 Initially, he served as an Apprentice Seaman working as a deckhand. The ship traveled to Venezuela, Bermuda and then to Norfolk for gunnery changes and during this time period he was promoted to second class seaman and then first class seaman. Eventually, he was assigned to the officer's motorboat as a bowman or sternman while they patrolled the North Atlantic from 1940 until December 7, 1941 going from Casco Bay, Maine to Iceland and Greenland and back. He was promoted from a coxswain 3rd class to coxswain 2nd class assigned to the motorboat taking the officers ashore.
He was serving in this capacity on that sunny Sunday when he vividly recalls President Roosevelt announcing the Japanese attack on Pearl Harbor over the loud speaker. On the last of these patrols in early 1942 after leaving Greenland, the USS Texas encountered an extremely bad and memorable storm that required a change in course to Norfolk for major repairs due to the damage to the ship.
Robert had the honor of escorting John to a reunion for the USS Texas in 2012. John was able to descend below decks, and was even interviewed by local TV.
While the USS Texas was in Norfolk for repairs, John was reassigned to the commissioning of the USS Cleveland. Clearing Norfolk's Chesapeake Bay on 10 October 1942, Cleveland joined a task force off Bermuda (on 29 October) bound for the invasion of North Africa – the first new class of ship to enter World War II. Her firepower supported the landings at Fedhala, French Morocco on 8 November, and she remained on patrol until 12 November, returning to Norfolk on 24 November.
This mission is etched in our family's lore. Dad told us all (many times) the day they were patrolling the invasion fleet perimeter when there was a call of "torpedo". Soon followed by another call, and another, and another. The nimble Cleveland-Class Cruiser was able to navigate around 3 of the 4 inbound torpedoes, but one was heading directly amidships – where John Jeffries was stationed. He recalls seeing the fishtail of the torpedo coming in and closing his eyes, awaiting the impact.
Which thankfully never came. Somehow the torpedo engine failed just before reaching the ship, and it sunk for a time riding its momentum under the USS Cleveland.  It exploded harmlessly on the other side.
Alan had the honor to escort his father to the USS Cleveland reunion in 2012 and was able to read the actual account of this event in a copy of the ship's log. The picture below is John on the far left with his former shipmates.
The Cleveland sailed for the Pacific on 5 December 1942, and arrived at Efate Island on 16 January. Her first mission in the consolidation of the Solomon Islands was with Task Force 18 (TF 18) to guard a troop convoy to Guadalcanal from 27 to 31 January, Cleveland fired on the enemy as she came under heavy air attack in the Battle of Rennell Island on the 29th-30th.
Joining TF 68, Cleveland steamed up "the Slot" on 6 March 1943 to bombard Japanese airfields at Vila on Kolombangara, then joined in the night action which sank Minegumo and Murasame in the battle of Blackett Strait.
John was selected for the B-12 ROTC program in December 1943 and was part of the group sent stateside to attend college in early 1944. Initially, he attended Baldwin –Wallace College in Ohio where he met his wife Corinne Fleger and then transferred to Harvard where he graduated with a degree in Economics.  When he graduated he was an ensign and continued in the reserves after the war as a Lt. J.G attached to the supply corp.
As the threat of returning to war increased for John and Corinne, they were determined to get married before he had to leave.  Thankfully the war ended before he was called back into action, but then the next part of his life's journey began.
They settled in the Washington DC area and began to raise their family. John decided to pursue a master's degree in Economics and Public Administration at George Washington University at night while working at the Army Map Service from 1948-1955 as a mathematician and computer specialist. However, in 1951 an opportunity to study law at Georgetown University presented itself and instead he earned his law degree in 1955 and was licensed to practice law.
Nonetheless, computers were rapidly developing and captured his attention and focus. From 1956 to 1959 he worked as a civilian for the US Air Force headquartered at the Pentagon as a computer specialist. Then, in 1959 he moved to the private sector working with IBM from 1959 to 1966 and served as the supervising programmer for our nation's space program (Project Mercury and Project Gemini) Bermuda Tracking Station for the early NASA space capsules.
During this time he was fortunate to meet some of NASA's space pioneers.
During the late 1960's from 1967 to 1970 he moved to MITRE Corporation enjoying the challenges as a computer specialist and renewed his interest in real estate and business as an active commercial and residential realtor and real estate investor. In 1972 he returned to computer programming fulltime with CACI until 1976 and continued with his real estate endeavors until 1983.
In May 1983, he returned to the government and joined the Social Security Administration as a computer specialist, programming and procuring computer equipment for a major revamping of their systems. Finally, in October 1986, he decided to really retire.
He spent his final years with his wife Corinne enjoying retirement, visiting family across the country, traveling. It truly was a wonderful life.