The above image represents the Indian Tribes of Indiana:
The treaties concluded between 1821 and 1832 at Chicago, Mississinewa, Carey Mission, and Tippecanoe focused on the lands in northern Indiana. In the 1826 negotiations of the Mississinewa agreements, the Miamis and Potawatomies were further isolated on reservations in the north-central part of the state and provided with hunting rights on their ceded lands.
It is during this time the Williams family migrate to Tippecanoe. Much more about these times can be found at this site, representing the Native American perspective.
Part 1 of this series can be found here.
David Williams (1806 – abt 1885)
David Williams was the father of John Peyton Williams, and he is the last generation of the Williams line were there is an unambiguous chain of records. We can trace his son John Peyton Williams back to Rock Island, IL (and the broader family as well) to the 1850 US Census. But for years it was impossible to find clear records  prior to this in the county of Tippecanoe, IN – where family lore said the Williams line was from.
John Peyton Williams always recorded his birth place as "Indiana" (1832), but there was nothing specific to where in Indiana. John Peyton's older brother George W Williams also listed his birth place as Indiana (1830), but his next younger brother, Willis Henry, was born in Illinois in 1835.  So we know the family lived in Indiana from at least 1830 – 1835.
The first real clue I discovered (a few years back now) was the record of David Williams' marriage to Nancy Ward in 1829. This makes David Williams (and his family) some of the earliest settlers of this region of the country:
Tippecanoe County was formed March 1, 1826, and named for the anglicization of "Kethtippecanoogi", a Miami term meaning "place of the succor fish people." (Kriebel, Robert C. – Tippecanoe at 2000: A Hoosier County Recalls Its Past).
There is a very detailed history of Tippecanoe County called "Past and Present of Tippecanoe County, Indiana, Volume 1", by Richard Patten DeHart and B.F. Bowen, 1909. It is available as a free eBook.
So let's begin with the earliest record we have for David Williams: his marriage to Nancy Ward in Tippecanoe, IN in 1829.  The image below is a snap of the record from:
Indiana Magazine of History

Vol. 32, No. 4 (DECEMBER, 1936), pp. 440-443

Published by: Indiana University Department of History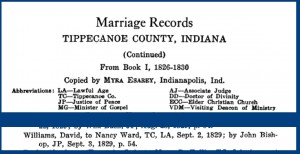 The top section of the image is the title page describing the records and their transcriptions. The specific record (lower section) indicates the marriage was on September 2, 1829 in Tippecanoe County (TC) and performed by John Bishop, Justice of the Peace (JP).
David Williams was 23 years old, and Nancy Ward was 19.
In "Biographical record and portrait album of Tippecanoe County, Indiana"; Lewis Publishing Co, 1888, Page 261 [original document, pag3 263 digitized] we find an entry for John Bishop:
At the first election held in the county [Editor: Tippecanoe], … Reuben Kelsey and John Bishop were elected justices of the peace for Fairfield Township, in which La Fayette is situated, …
With this information we can confirm David Williams was married to Nancy Ward in Tippecanoe County. The following map highlights Fairfield Township (in red), the modern city of Lafayette (grey) and Tippecanoe County (light yellow):
As noted above, David Williams and his family were first found in Rock Island County, IL in 1850: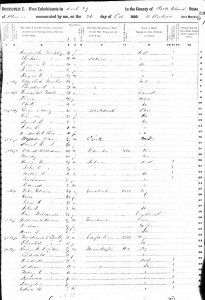 This is the first of many census references denoting where David and Nancy where born: Pennsylvania and Virginia, respectfully. The census records also confirm birth years; ~1806 for David and ~1810 for Nancy (depending what time of year each census was taken).
The image is of such poor quality it is impossible to discern David's occupation. This is also the only record that lists all the children of Nancy and David: George W, John P, Willis H, Katharine and David R.
It is quite a jump in time from 1829 in Tippecanoe, IN to 1850 in Rock Island, IL, – and this is where I was stuck up until a few weeks ago. It was then found a record for David Williams for the time in between, and it began with an entry in this book (also a free eBook):
"History of Mercer County: Together with Biographical Matter, Statistics, Etc., Gathered from Matter Furnished by the Mercer County Historical Society, Interviews with Old Settlers, County, Township and Other Records, and Extracts from Files of Papers, Pamphlets, and Such Other Sources as Have Been Available : Containing Also a Short History of Henderson County"
H.H. Hill and Company, 1882
Page 623:
Suez Township

Early Settlement

The broad domain of Illinois did not afford a more inviting spot to the eye of the early pioneer than the territory embraced within the lines of what is now Suez Township; …. shortly after the close of the Black Hawk war, the snug log cabin began to take the place of the Indian wigwam; the white-topped wagon, the lowing of cattle, and the sound of the axe announced the fact that the day of civilization was dawning. Among the first to cast their lot in Suez township we find the following names; David Williams and George Blake came together from the State of Indiana in 1835, the former locating on the SW 1/4 of Sec 22.
I have not been able to confirm the land records listed here with records at the Bureau of Land Management. But a "David Williams" does purchase land in  Mercer County in 1841-43 and then Rock Island County (directly north of Mercer) in 1848.
So this hint led me to a census record for a "David Williams" in 1840, living Mercer County, IL. The original is hard to read and it is difficult to map the numbers to the age group, so I am showing the Ancestry.com summary page: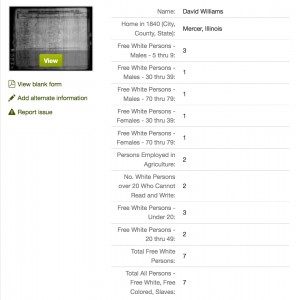 I have high confidence this is our David Williams because the ages of the 3 boys (5-9) compare very well with the birth dates of the three boys (1830, 1832 and 1835). Also, the ages of the parents are correct (30-39).
We also know Willis Henry Williams (3rd child) was born in 1835 in Illinois – the same year the document above claims David Williams came to Suez Township in Mercer County.
Finally, the BLM records I did find (follow this link) conform to Township 14N, Range 2W, which is also the notation in the 1840 census: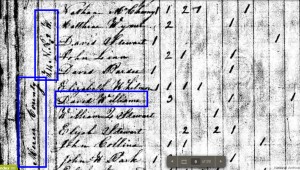 I denoted using blue rectangles (left to right) the county (Mercer), the township/range (14N/2W) and the entry for David Williams.
Interestingly, there are two other people living at the 1840 residence that are in their 70's; one male and one female.  I know these are not Nancy Ward's parents (her father and stepmother are buried in Tippecanoe, and her mother died in Kanawha, Virginia).  So these could be David's parents.
To recap: we have discovered that David Williams was born in 1806 in Pennsylvania, and by 1829 his family was one of the first to settle in Tippecanoe, Indiana after the Indian wars. He marries Nancy Ward and by 1835 has moved to Mercer county Illinois, where we find him in 1840.  By 1850 he has moved north to Rock Island County, Illinois.
In the 1860 Census we find David and Nancy are living with their son David R (13 years old). All the other children have apparently left the nest. David and Nancy are found on page 4 of the census, John Peyton and his brother Willis are on page 6. David's occupation is listed as "farmer".
At the top of the image we find we are now in Township 17N, R 2W.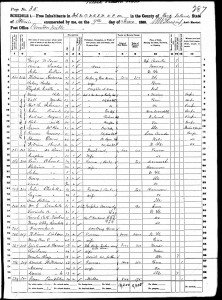 In the 1870 census we find David and Nancy stilling living with son David R (now 22 years old). David lists his occupation as "Gentleman". He is 65 and his wife should be 62 (looks like record error in this census).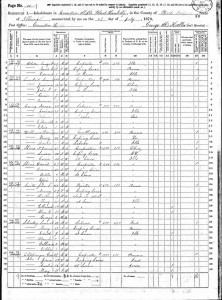 The census header states they are in Camden Mills – Black Hawk Township.  The back-story for this location is:
Black Hawk Township … Derives its name from the noted chief of the Sac and Fox Indians, who for many years had his home within the present limits of South Rock Island Township. … Black Hawk Township comprises a section noted not only for the beauty of its landscape, but also for being an exceedingly prosperous farming community. The bottom land is very rich and produces immense crops of corn, hay, potatoes and small grain, while the finest apples, peaches, grapes and berries are raised in large abundance, and all find ready market close at hand.

….

Village Of Milan On the south shore of Rock River, in Black Hawk Township, stands Milan, deriving a thrifty trade from her adjacent farming country. Cheap coal and abundant water power make Milan essentially a manufacturing point, though sad to relate, a nemeses has apparently pursued every establishment ever erected there. Milan was originally called Camden, and was laid out by William Dickson in 1843. In 1848 the name was changed to Camden Mills, on account of there being another Camden in Schuyler County. In 1870 the name was changed to Milan.
Here is a map of the township (red) overlaid on Rock Island, County (light yellow):
Our last glimpse of David and Nancy is in the 1880 census:
David is 75 and lists his occupation as "Retired Farmer".  Nancy is 71 and still by his side.  The good news is we are told where their parents were born (Pennsylvania and Virginia – same as themselves). This census record lists them as living in "Milan". Below is Google Earth image of where David and Nancy owned property and lived over the many decades they were in Illinois.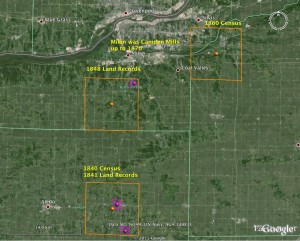 I have yet to find any information on where they may be laid to rest – though I am certain it should be in this same general area of Milan, Rock Island County, Illinois.
Robert Williams (Unknown-Unknown)
In the last week – thanks to a hint from "Aunt Sandee" – I was finally able to break through to prior generations for David Williams and Nancy Ward. I will only touch slightly on the work here, because I will be addressing that branch extensively in Part 3 of this series. Most of the discovery is on the Nancy Ward lineage, which reaches back to the early 1600's and some of the first settlers of this great nation. It includes a few Revolutionary War veterans as well. One well placed hint and we pushed the family tree from 1829-1850 back to the 1620's!
But it is interesting how developing the "Ward" line gave me the evidence I needed to identify the likely father of David Williams (assuming David came to Tippecanoe with his family and not alone).
The hint Aunt Sandee provided was recalling that the middle name "Peyton", which spans four generations down to my father-in-law, came "from a Virginia family thread". Well the only Virginia thread that makes sense is Nancy Ward – wife of David Williams and mother of John Peyton Williams, the first to have the middle name.
So off I went looking for the "Wards", and I ran across a website dedicated to Tippecanoe County, and on one of its pages it listed marriages. In fact, it listed a very interesting marriage:
Joseph P. Harvey  }  Be it known that on this third day of March in the year one
and           }  thousand Eight hundred and thirty six a marriage transpired
Mary Ward     }  to Joseph Harvey and Mary Ward both of the County of
Tippecanoe  in the State of Indiana and both of Lawfull age.  A certificate of which marriage is returned and filed to.

I John Roberts Justice of the peace of Tippecanoe County Ind. do certify that Joseph P. Harvey and Mary Ward now by me legally joined in marriage on the 3rd day of March 1836.

John Roberts  J. P.
This marriage is in 1836, 7 years after the marriage of Nancy Ward and David Williams.  But it seemed like a good place to start, so I built up the trees of Mary Ward and Joseph Parnell Harvey. At some point I tripped over the probable father of Mary and Nancy Ward – one Rowland "Rollin" Ward III.
In searching records I ran across an un-sourced site at Ancestry.com that showed Rowland Ward III had a wife Susey "Payton".  As I built up the life history of Rowland Ward, I learned he lived in Kanawha Virginia, then moved to Tippecanoe, Indiana.
At this point I realized there was something here, too many coincidences in terms of names, locations, etc. So I estimated a marriage date between a Susan Peyton and Rowland Ward in Kanawha County Virginia. It was not long afterwards one of those Ancestry.com leafs showed up and confirmed my guess.  You can find the original and a transcribed copy at the West Virginia vital records site.
Susey (Peyton) Ward apparently dies young around 1816, and Rowland remarries by 1817. This is clear by many records regarding his second wife (and a marriage record in the West Virginia data).
So it looks like Nancy Ward lost her mother when she was about 6 years old, and decides to name her second child after her Mother's maiden family name: Peyton. A name handed down in 4 generations of the Williams family.
So what does all this have to do with Robert Williams?
Well, as I built up Rowland Ward's data I discovered him living in 1830 in Tippecanoe County, specifically Wabash Township.
I had already identified all "Williams" households in Tippecanoe in the 1830 census. There was a Thomas Williams in Tippecanoe Township, two John Williams (father and son) in Fairfield Township and a Robert Williams and Amos Williams (father and son) in Wabash.  There is also a William Williams and another Robert Williams in other parts of Indiana. I had given up trying to work out which one could be related to David Williams.
Until I discovered Rowland Ward and was able to link him to Nancy Ward.
In the 1830 census "Rollin" (his nickname) shows up one page away from Robert and Amos Williams. Here are screen shots of the 1830 census [please note a single "page" is two pages of a ledger sized book (left and right side, names down the left side of the left page). So these two entries are less than a page apart]
In addition, if you look at the 1830 township map for Tippecanoe County, you can see Wabash Township is on the other side of the river from Fairfield Township and the city of  Laffayette – where David and Nancy were married.
So just on geography alone I am confident Robert Williams is the father of David Williams – given the closeness of the two families. Finally, we have this entry from "Past and Present of Tippecanoe County, Indiana, Volume 1", by Richard Patten DeHart and B.F. Bowen, 1909; page 148: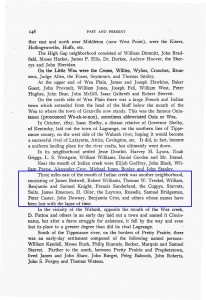 The names listed here conform to the names on the 1830 census pages along with Robert Williams and Rollin Ward.
When you map the mouth of Indian Creek you find where this settlement was located.
This is all I have to date for the Williams Family line. I hope to have another break through now that I can confirm Robert Williams was born in Pennsylvania. To recap both posts: here is the lineage from Robert Williams to Leslie Williams: