It is amazing when you come across a branch of the family that not only left a huge imprint on history, but on your own life as well. It is even more amazing when that ancestor was one of the first to colonize the New World.
I have posted previously on a similar ancestor who came to New England in 1632 (see here for Part 1 of the 5 part series). Today I cover another ancestor who arrived a decade earlier in 1621, landing in Virginia.
Being a native of Northern Virginia one of my summer vacation haunts was Virginia Beach, Virginia. Primarily because my mother owned a condominium off Rudy Inlet (and at one point another on the beach). I spent my childhood in that area, and when I was later married my wife and I and the kids used to vacation there (until we learned to love the Outer Banks, NC).
My eldest daughter went to Christopher Newport University, which is not far from Virginia Beach.  And I have visited the colleges in the area many times to show to our kids.
Also, since I have worked for NASA, I have been down to Langley Research Center many times. Bottom line, I know the area as well as any place in Virginia.
To set the stage for this story, it is helpful to remember when Virginia's first permanent colonies were established:
The London Company was incorporated as a joint stock company by the proprietary Charter of 1606, which granted land rights to this area [Virginia]. The Company financed the first permanent English settlement in the "New World", Jamestown. Named for King James I, it was founded in May 1607 by Christopher Newport. In 1619, colonists took greater control with an elected legislature called the House of Burgesses. With the bankruptcy of the London Company in 1624, the settlement was taken into royal authority as an English crown colony.

Life in the colony was perilous, and many died during the Starving Time in 1609 and the Anglo-Powhatan Wars, including the Indian massacre of 1622, which fostered the colonists' negative view of all tribes. By 1624, only 3,400 of the 6,000 early settlers had survived.
To this challenging New World in 1621 came a young man named Adam Thoroughgood (or Thorowgood) – my 1oth great-grandfather on my father's side. The best description I found about the life of Captain Adam Thoroughgood was from: Bellamy, Joe Davis The Bellamys of Early Virginia (iUniverse, 2005).
In 1621, 17-year-old Adam Thoroughgood, the seventh son of Rev. William Thoroughgood of Grimstone, Norfolk, England, arrived in the Virginia Colony as an indentured servant in the muster of Mr. Edward Waters. Adam Thoroughood's first years in the New World must have been filled with the roughest sort of manual labor, but after working off his indenture in five years, Thoroughgood rose quickly in the hierarchy of the fledgling colony. Shortly after the time of his release in 1626, he was listed as Captain Adam Thoroughgood, Gentleman of Kiquotan, when he purchased 150 acres on the north side of what is now Hampton Roads, Virginia.
Emphasis mine. "Kiquotan" or Kecoughtan is the name of the Algonquian Indians who inhabited Hampton Roads, and was the original name of the region:
The Kecoughtan village was where the English explorers received their first welcome in 1607. The tribe remained generally friendly to them until the summer of 1609, when president John Smith sent Captain Martin to forcibly take over the island inhabited by the Nansemonds, across the mouth of the James.

…

Kecoughtan became part of Elizabeth River Shire in 1634, and Elizabeth City County in 1637. In the 1690s, Kecoughtan became part of the newly incorporated Town of Hampton, which later became an independent city. Elizabeth City County and its only incorporated town, Phoebus, both agreed to a consolidation with Hampton in 1952, forming the current City of Hampton.
Now back to the life of Captain Adam Thoroughgood as described in The Bellamys of Early Virginia:
In 1627, Capt. Thoroughgood returned to England, where he took a wife Sarah Offley of London, whose grandfather and great grandfather had been Lord Mayors of London. Thoroughgood immediately began carrying out an ambitious plan of sponsoring immigrants to Virginia in exchange for land – under the same terms that he had accepted when he first left home six years earlier: five years of servitude in exchange for passage to the colony and fifty acres of land for the immigrant at the time of his release, plus fifty acres of virgin land per person for the sponsor. Adam Thoroughgood must have been a very persuasive fellow because he was able to convince 105 citizens of England to leave for the wilds of Virginia over the next several years.

By this means, by the year 1635, 31-year-old Capt. Adam Thoroughgood had acquired 5,350 acres in colonial Virginia Beach together with a task force of 105 white English indentured servants to tend to it.

During the period of immigration, 1628-1635, Thoroughgood returned to the colony, where is meteoric rise as a mover and shaker continued. By 1628, he was appointed Commissioner for holding the month court at Elizabeth City. Soon after, he was elected to the House of Burgesses, the Governor's Council, and as Justice of the Court of Lower Norfolk County, then designated as "the Lower County of New Norfolk," named "Norfolk" by Thoroughgood for his home shire in England.
This factoid was news to me. I had never really thought much about the name "Norfolk" in Virginia, but to learn it came about from my 10th great-grandfather was a bit of a shock. For those of us who know the area around Virginia Beach, there is more to come:
 In 1636, on his newly acquired plantation, Thoroughgood built a substantial brick house for his family. The house was located on the western branch of the the Chesopean River, which he renamed the Lynnhaven River in memory of the King's Lynn in his native Norfolk because of its resemblance to the River Ouse that flows through the Norfolks fenland to the Wash and the North Sea.  Thoroughgood's house is believed to be the oldest surviving brick structure in America.

[Note: Lately, it has been discovered through tree ring dataing that this Thoroghgood house is more likely the house of Thoroughgood's grandson]
If you are a visitor of the Virginia Beach area the name "Lynnhaven" is ubiquitous. This post begins with a map of the modern era Lynnhaven River and Lynnhaven Bay.
The names of places I have known all my life were coined by my 10th great-grandfather! Simply amazing. Below is the lineage between myself and this interesting man (click to enlarge):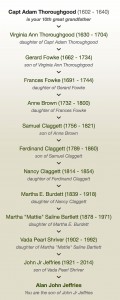 Here are some more details on his early life I found on Ancestry.com:
Adam Thorowgood was baptized in 1603 at St. Botolph's Church in Grimston, Norfolk, England where his father was vicar. He arrived in Virginia on the Charles in 1621, and at the time of the muster in 1625 was living in Elizabeth City. By December 1626 when he had acquired 150 acres north of Hampton Roads, he was being referred to as Captain Adam Thorowgood, Gentleman, of Kecoughtan. Shortly thereafter he returned to England where he was married at St. Anne's Church, Blackfriars, London in July 1627 to Sarah Offley.
This website  has some more details on his arrival in 1621 as an indentured servant.
1621 Voyage:

Browne, Nicholas, 1621 voyage, aged 18 at muster Elizabeth City, servant to Edward Waters.
Crew, Randall, 1621 voyage, aged 20 at muster, servant for Widow Katherine Benett.
Hely, John, Nov 1621 voyage, aged 24 at muster, listed as servant for William Ferrar and/or Sisley Joran at Jordan's Jorney.
Manuell, Robert, Nov 1621 voyage, aged 25 at muster, listed as servant for William Ferrar and/or Sisley Joran at Jordan's Jorney.
Thorogood, Adam, 1621 voyage, aged 18 at muster Elizabeth City, servant to Edward Waters.
Watkins, Daniell, 1621 voyage, muster at Burrows Hill, James City. Listed with Phettiplace Close on the Starr.
Interestingly and coincidental to my New England ancestor William Cornwell, whom I referred to at the beginning of this post, is the fact the ship Adam Thoroughgood came to America on was "The Charles", which surfaces in Barnstable, Massachusetts.
This website has some fascinating details on whom Adam Thoroughgood brought over to America and on which ship. One very interesting name is included:
AUGUSTINE WARNER (George Washington's 2d great grandfather)
The ship Adam Thoroughgood used to bring over Augustine Warner was "The Hopewell" – also a ship that may later play a role in the colonization of New England and the Winthrop Fleet.
Ships associated with Captain Adam Thoroughgood's 105 indentured servants were:
The Charles (he arrived on in 1621 as indentured servant)
The Hopewell (1628-1629, 1633)
The True Love (1628)
The Africa
The Christopher & Mary
The Ark
The Bona Adventure (1634)
The Middleton (1634)
The Merchants Hope (1634)
The John & Dorothy (1634)
I can tell I will probably be doing a post on Adam's wife Sarah Offley, since being my 10th great-grandmother who has one or two Lord Mayors of London in her tree!