Part 2 of this series can be found here
One of the challenges with genealogy on my wife's side of the family is the over abundance of common names like White, Smith, Jones, etc. Her maiden name is no exception of course, being "Williams".
This post is to capture what I have been able to find in terms of the lineage of her family name. I suspect it will have some errors since the post is a birthday surprise for her father, who would be the one best in a position to find and fix my errors.  So expect a major update in the not too distant future once he gets his eyes on it.
Update 6/17/15: I have changed the path forward and will be releasing this in stages as I complete a generation. So there will not be a major update, but a series of updates and corrections.
My wife is from the San Francisco Bay Area originally. Her father Dell Peyton Williams III  was born in Spokane Washington, where I will begin the march back in time, with his father.
Dell Peyton Williams Jr. (1905-1974)

Dell Peyton III's father was – of course – Dell Peyton Williams Jr.
When Dell Peyton Jr was born in Spokane, WA on December 16, 1905 his father Dell Peyton Sr was 29, and his mother Gertrude Donoho was 30.
In the 1910 Census Dell Peyton Jr is 4 years old and living with his family in Spokane, Washington (click to images to enlarge)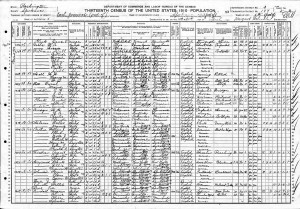 It is important to note that the first three children of Dell Peyton Sr and Gertrude Donoho – Georgia E (January 1900), Glenn D (December 1900) and Cecil T (19o2) – were all born in Spirit Mound Township, in Clay County South Dakota (image at top of this post).. Dell Peyton Jr (1905) and his sister Ruth M (1904) were born in Spokane Washington. So from this data we can conclude that some time between 1902 and 1904 the family moves to Spokane, WA from Spirit Mound, SD.
About 10 years later in 1913 the family moves back to Vermillion, Clay County, South Dakota. Vermillion is a city near the Spirit Mound historic park. We know when the family arrived in SD because of a 1915 South Dakota census record that includes the year the family entered the state. There is no image available, but the record is on line at Ancestry.com: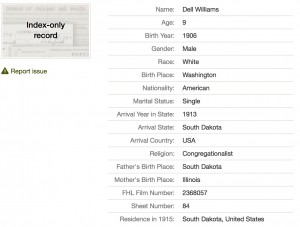 The family was still in Vermillion in 1920 according to the US Census record for that year, and in 1925 according to the South Dakota census for that  year.
According to the 1930 US Census records, the family moves back to Spokane, WA sometime between 1925 and 1930. Note: in discussions with Dell Peyton the 3rd, we were informed the family moved back to Spokane in 1929.
We then find the shrinking family living with his brother-in-law William Dunlop (husband of sister Ruth M). Dell Peyton Jr is now 27 years old and a Dry Goods Salesman.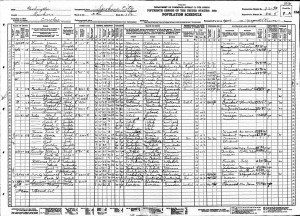 In the 1940 census we find Dell Peyton Jr – 34 years old – and his wife Marie – 3o years old – living on North Calispel Street, Spokane.  They have a 2 year old daughter Sandra, and Dell Peyton Jr is self employed apparently 80 hours a week! He also states that he has finished his 3rd year of college: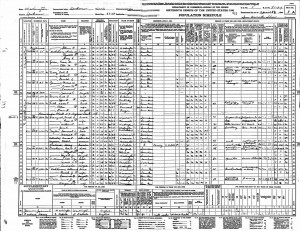 Dell Peyton Jr married his wife Marie Adelaide Blake in 1936, in Spokane, WA where they raised their family. He died at the age of 68 in Spokane and is buried at Spokane-Cheney Memorial Gardens with his wife.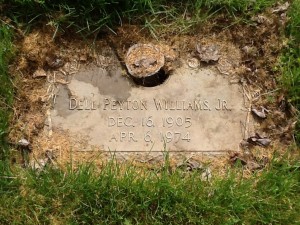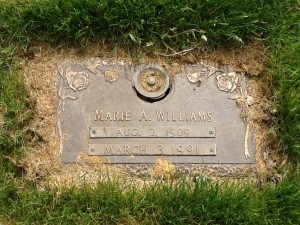 Dell Peyton Williams Sr (1876 – 1948)

When Dell Peyton Williams Sr was born on February 13, 1876 in Spirit Mound Township, Clay County, South Dakota, his father John Peyton was 43 and his mother Mary Ann [Campbell] was 41. Dell Peyton Sr married Gertrude Donald Donoho in 1899. He had five children by the time he was 29. They had seven children all together. Dell Peyton Sr died on December 22, 1948, in Spokane, Washington, at the age of 72.
Dell Peyton Sr was born during tumultuous times, especially in the Dakota Territory. That is the year of the Great Sioux Uprising:
The Great Sioux War of 1876, also known as the Black Hills War, was a series of battles and negotiations which occurred between 1876 and 1877 involving the Lakota Sioux and Northern Cheyenne against the United States. As gold was discovered in the Black Hills, settlers began to encroach onto Native American lands, while pressure was mounted by the federal government for the Natives to remain on the Sioux reservation.
In May 1876 the army launched a three-pronged campaign to force the Lakotas back onto the Great Sioux Reservation: Col. John Gibbon advanced eastward from Fort Ellis (Montana), Gen. George Crook moved north from Fort Laramie, and Gen. Alfred Terry (with George Custer) moved westward from Fort Abraham Lincoln (North Dakota). The military's campaign began to crumble when on June 17, 1876, the Sioux, led by Crazy Horse, routed and turned back Crook's command at the Battle of the Rosebud. On June 25.26, 1876, in the most famous fight of the offensive, Lt. Col. George Custer's Seventh Cavalry attacked an enormous Indian encampment on the Little Bighorn (Greasy Grass) River. Custer divided his command and attempted to strike the village from both ends but was quickly overwhelmed by superior numbers. Custer and 210 men in his immediate command (263 total) were killed.
Spirit Mound and Clay County are located to the east of the primary Indian Lands, as can be seen the map below. But the entire Dakota territory was on edge during that fateful year of  Sitting Bull and General Custer.
In the 1880 US Census we find a 4 year old Dell Peyton Williams written unfortunately as "Adelbert", which is the source of much misunderstanding about the root of the name "Dell Peyton". Dell's middle name is the same as his father "John Peyton", so this must be a transcription error by the census taker (who must have been hard of hearing, missed the name, or something).
Anyway, in 1880 a 4 year old Dell Peyton Sr is living with his 6 older siblings, mother and father in Spirit Mound township, then in The Dakota Territory:
The census record indicates this is for Township 093 N and Range 052 W. You can use Google Earth to find this region of SD, which includes Spirit Mound. Here is a view of Clay County (green line), the township/range (orange line), Spirit Mound (blue square with white "X") and Vermillion (red dot with white outline):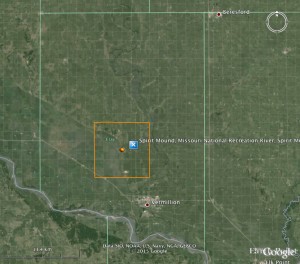 The Dakota Territory lasted until 1889, at which point North and South Dakota became US States. It is well know to genealogists that the 1890 US Census records were lost in a fire in 1921. So the next Census we find Dell Peyton Sr in is the 1900 US Census living in "Spirit Mound Township". By this time he has married Gertrude Donald Donaho (a neighbor in Spirit Mound Township – reference the next generation for details) and they have a 4 month old daughter Georgia: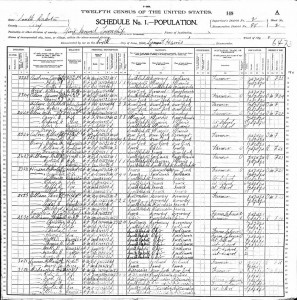 As we noted above with Dell Peyton Jr, Dell Peyton Sr is living in Spokane Washington by the time of the 1910 Census. He then moved his family back to Spirit Mound around 1913 and was there until at least 1925.
In researching Dell Peyton Sr we run across an interesting border crossing record from 1912, which indicates the family move from Spokane back to Spirit Mound was not a direct path: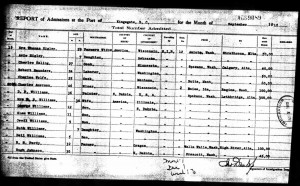 In this record the entire Williams Family is heading to Lethbridge, Alberta, Canada. His occupation is listed as "painter". Obviously the family is on the lookout for productive work, which was abundant in the booming Lethbridge of 1912:
Between 1907 and 1913, a development boom occurred in Lethbridge, making it the main marketing, distribution and service centre in southern Alberta.[8] Such municipal projects as a water treatment plant, a power plant, a streetcar system, and exhibition buildings — as well as a construction boom and rising real estate prices — transformed the mining town into a significant city.
Lethbridge is in the southern portion of Alberta Province. The boom was not long lasting unfortunately, as we know the Williams Family moves back to Vermilion, SD in 1913.
In the early years Dell Peyton Sr was listed as a 'farmer' in the US Census records.  When he brings his family back to Spirit Mound in 1920 he changes his occupation in the US Census records to 'painter', and is apparently self employed painting houses. This was his occupation through to the 1940 census when he was 64 years old.
The final record for Dell Peyton Sr is his World War I draft card, submitted September 12, 1918.
In this record we find the address for Dell Peyton Sr in the town of Vermillion South Dakota. It is "103 South Yale Street".  Here is a picture of the house (I believe) from 2012 using Google:
Dell Peyton Williams and his wife Gertrude are buried at Greenwood Memorial Terrace in Spokane, WA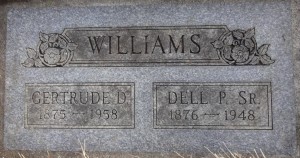 John Peyton "Pate" Williams (1832 – 1920)

The next generation back in time for the  Williams Family  brings us to one John Peyton "Pate" Williams.  He is quite the adventurer. He is 3rd in a line of pioneer settlers that began their journeys back in Pennsylvania, not long after the Revolutionary War.
When John Peyton Williams was born on September 16, 1832, in Lafayette, Indiana, his father, David, was 26 and his mother, Nancy Ward, was 22.He married Mary Ann Campbell on September 17, 1854, in Moline, Illinois.
Lafayette IN is the county seat for Tippecanoe County, IN. Moline, IL is in Rock Island County, IL.  Both of these counties are central to the Williams' lineage and path from Pennsylvania to South Dakota.
John and Nancy had nine children in 22 years. He died on October 8, 1920, in Spirit Mound, South Dakota, at the age of 88, and was buried in Clay County, South Dakota.
The first record we have for John Peyton Williams is the 1850 US Census, when he was living in Rock Island County, Illinois. He was 17 years old and living at home with his parents David Williams and Nancy (Ward) Williams [note: corrected 6/23/15)], along with all his siblings.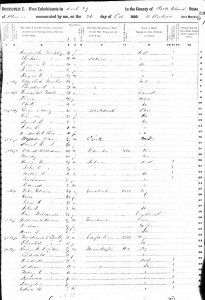 John P next shows up in the 1860 US Census in Black Hawk, Rock Island, IL. "Black Hawk" was part of Rock Island City at the time.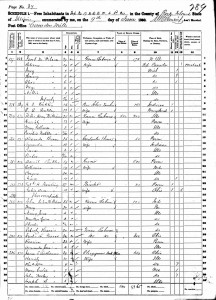 John P is now living on his own raising a young family (3 children under 5). His parents and siblings are living nearby. His occupation is listed as Farm laborer (same as in 1850).
By 1870 the John Peyton Williams has become a pioneer settler. He is found at Spirit Mound in South Dakota, with a much larger family (now 7 children):
What is interesting in this record is the birth year and location of the two youngest children. Daughter Mary is 4 years old and is listed as being born in Illinois (Rock Island most likely). Scionce (a.k.a. "Silas) Williams is 10 months old, but he is listed as being born in Dakota Territory. So we can conclude that John Peyton's family moved from Rock Island, IL to Spirit Mound, SD sometime between 1866 and 1869.
One of John's and Mary's children was David Patrick Williams. When he passed away in 1943 his obituary contained a lot of family history (emphasis mine):
PLAIN TALK  FEBRUARY 4, 1943
D. P. WILLIAMS PASES AWAY TUESDAY NIGHT

Old Resident Dies At Home On Prospect Street;  Ill For Two Years
One of Clay county's oldest residents was summoned by death Tuesday evening, February 2, when D. P. (Pat) Williams died at his home on Prospect street.  For the past two years he had been in feeble health but had been confined to his bed only since December 18.  Born at Rock Island, Illinois, August 16, 1861, he came west with his parents when a mere lad, traveling by ox team and covered wagon.  He was a member of the first white family ever to establish a home at the foot of Spirit Mound.

On May 28, 1884, he was united in marriage to Ida Losee, daughter of another pioneer family.  The ensuing years were spent farming in Clay county, with the exception of two years spent in Turner county.  In 1912 the family moved to Vermillion and since resided here.  Mr. and Mrs. Williams celebrated their golden wedding anniversary in May, 1934.  Mr. Williams served Clay county as coroner for four years.  During his residence at Spirit Mound he united with the Spirit Mound Baptist church.
Funeral services will be held this afternoon (Thursday) at the Elmore funeral home.  The services will be at 2 o'clock, conducted by Rev. B. A. Davis of the Methodist church.  Burial will be in Bluff View cemetery.  Pallbearers will be six old friends of the deceased, R. N. Swisher, M. E. West, W. A. Bauman, Claude Huetson, Gail Hartwick, and H. W. Hinchliff.


Mr. Williams is survived by his widow and one daughter, Mrs. Elsie Williams Burns.  Also two brothers, Dell, of Spokane, and Si, of Hood River, Oregon.


From Brent Richardson: Dell and David did cement work in Vermillion, SD and many sidewalks there still have there names on them.
The fact John Peyton's Family was one of the first to settle in Spirit Mound Township is confirmed by land grant maps from the period.  Below is a map of the Spirit Mound Township owners from October of 1900: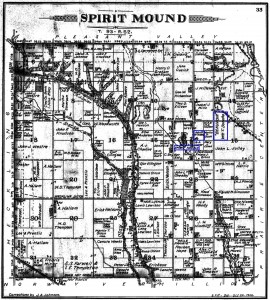 I have identified three items on the image using blue rectangles.  One is "John P Williams" home plot in 1900. The second is the label for "Spirit Mound" which shows John Peyton's home was at the very base of Spirit Mound.
Lastly I highlighted a neighbor of interest: William T Donoho. This is the father of Gertrude Donald Donoho, who goes on to marry Dell Peyton Williams Sr. This map was created the year after they married.
The following purchases were made by John P Williams according to the US Bureau of Land Management (BLM) in July 26th, 1875:
Twp – Rng                 Aliquots        Section           County

093N – 052W                        N½SE¼          14                  Clay

093N – 052W                        SW¼NE¼       14                  Clay

093N – 052W                        NE¼SW¼       14                   Clay
The total land purchased at this time was 160 acres, all around Spirit Mound. It appears John Peyton sold this land to many of the folks living nearby in that 1900 map. This is confirmed in the 1900 US Census where John Peyton lists his occupation as "Landlord". [Note: When Dell Peyton Sr and his family returned to Spirit Mound in 1913, they were probably able to live on land owned by John Peyton – his father.]
In this census John Peyton is 68 years old, and has been married 47 years. He and his wife Mary (Campbell) are now living on their own.
To illustrate how different Spirit Mound was in 1900 from today we can look at the Township/Range for Spirit Mound in Google Earth:
Today the area is all prairie and grasslands. Probably not much different from when John Peyton Williams first moved his family there in the late 1860's. By 1900, however, the area was highly settled; as can be seen when we overlay the 1900 map on the Google Earth image:
Here is a zoomed in view of the area just around Spirit Mound: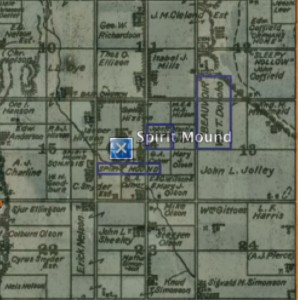 In the 1910 and 1920 US Census Records we find John Peyton and wife Mary Ann living in Vermillion, SD on South Harvard St.  This is one block away from Dell Peyton Sr and his family at 103 South Yale St.
Here are the 1910 and 1920 census records
John Peyton and Mary Ann Williams are buried in the old pioneer cemetery called Spirit Mound Cemetery. It is an abandoned cemetery north west of Spirit Mound on private property (according to an entry on Find-a-Grave). This is one of the pictures of the cemetery as it looked in 2009:
Part 2 of this series can be found here