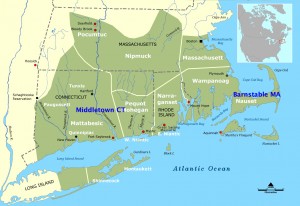 Update 12/21/14 to address the tradition of naming of children after grandparents
Finally we come to it: was it more likely William Cornwell was married to one Mary "Little Dove" Hyanno, – Nauset Indian Princess – or was it more likely she married one Austin Bearse?
Can we attempt to claim Mary Cornwell was actually from the Cummiquids of Barsntable?
This final post in the series will attempt to address these questions.
The challenge for those claiming it was William Cornwall's wife Mary who was a Cummiquid Princess is the distance from Middletown to Barnstable. Driving distance between the two locations today is about 167 miles (see picture above – click to enlarge). Can we show some possible connection? The answer is a tentative yes, but there are more fundamental problems at play here.
As an aside, the Bearse family claim does not share this challenge of distance, Austin Bearse was clearly a resident of Barnstable. The real problem is the essence of the Bearce claim and how it came about.
My research on William Cornwell and the primary Indian Tribes of New England in the early 1600's has led me to one disturbing conclusion: Outside the unpublished claim of Franklin Bearse in the 1930's (well after the events), there are no contemporary records of Mary Hyanno. Nor are there any contemporary records of a genealogical link between Sagamore Iyannough of the Cummiquids and the Grand Sachem Canonicus of the Narragansetts of Rhode Island. None. These two elements of the Bearse claim are critical to establish.
If someone can provide pointers to any such contemporary records I would be much obliged.
The interesting problem here is why such a connection between Canonicus and Iyannough was needed by Franklin Bearse in the first place. And when we explore that aspect we discover why the Bearse claim is on very shaky ground.
As noted in the previous post William Cornwell could very well have had an Indian wife.  (Editor's note: I have had my DNA tested and I do have Indian heritage, but there are two other likely ancestors for this lineage so I cannot claim it was from the Cornwell line). The most likely tribe for William's wife to be from is the Wangunks (or Mattabessic) – based on my research and the clear connection between William Cornwell and Sachem Sequin/Sowheag of the Wangunks. William Cornwell's life illustrates the normal sequence of events and conditions one would expect for an Indian Princess to marry an English (or European) Settler. There was a future of trade, stability and protection between the Wangunks along the Connecticut River and a few English veterans of the Pequot War (William Cornwell and John Hall). A major trade and security alliance is the perfect setting for this kind of marriage to "seal the deal" for future generations. And since Cornwell had lost his first wife he is not violating any existing oaths.
It also makes sense since Cornwell's life-travels are alongside some of the most notable names in history who preached and argued for peaceful coexistence with the Indians.  From his time in Roxbury MA and his alliance with people like William Pynchon of Springfield MA, Cornwell lived among those who resisted the Puritan zealots – which included the requirement that English never marry outside their Church – let alone into Indian Society (the best example of this is what transpired at the settlement of Merrymount and what happened to its founder Thomas Morton). This Puritan push for purity is a major Achilles' Heal in the Bearse claims.  For if there was such a marriage, Austin Bearse would very likely have been expelled from Barnstable.
Another major problem with the Bearse family lore is what is missing in terms of land from the Cummiquids, lands due a Cummiquid Princess.  Cornwell's example shows how these marriages of Indian royalty should result in great tracts of land and power being shared with the European Settler(s).  Cornwell's record is replete with such benefits of a marriage to an Indian Princess.  The Bearse claim is completely devoid. As noted in Part 3 of this series, John Hyanno was the last Sagamore of the Cummiquids.  He too sells off the tribal lands to the Town or citizens of Barnstable, completing all sales by 1680.  If Austin Bearse was his son-in-law, you would expect to see what we found in Middletown where William Cornwell wills to his children land that was clearly designated tribal lots in earlier records.
Update: There is one possible hint that Mary Cornwell might be Mary Hyanno – but it is a weak connection.  The convention for naming children in the 1600's, 1700's and 1800's was to have the first children named after the grandparents. It was not always followed perfectly (whether the father's father was the eldest son's name or the mother's father). But it was done in some fashion in most families. I have used this tradition before to confirm a suspected lineage.
As we have been told Mary Hyanno's father was Sagamore Iyannough and her brother was John Hyanno. John Hyanno did exist.
If we assume "John Hyanno" becomes the traditional English nickname for the Sagamore's Iyannough, then it is not beyond reason that all three generations of Sagamore Iyannough where translated to "John Hyanno" when speaking to the English.
If you look at the two eldest sons of William and  Mary in order they are "John" and then "William".  William Cornwell's father was named "William". So "John" should be the name of Mary's father. This might be John Hyanno – it might not.  I find it interesting John was the eldest and not William.  Maybe this is an acknowledgement of Mary's special situation regarding this family and where they were living in 1640 when John was born.
There is no "John" Bearse as a son in Austin and Mary Bearse's family in Barnstable. – end update
But in the end, I kept coming back to the fact I could not find a Mary Hyanno, nor any lineage between the Cummiquids of Cape Code and the Narragansetts of Rhode Island.  Not even the supposed connection to the Indians of Martha's Vineyard. This really began to open my eyes to other possibilities.
I will note that one of the other connection in the Bearse claim was through the Hamlin family. I get the feeling the Hamlin family lore is the last strand of the Hyanno connection left standing. I discovered this on Ancestry.com linked to one of the many trees with the Bearse claims embedded:
Two more items of interest that might verify that this Indian lineage is accurate. I have a large "plastic" type black and white pedigree chart of Jacob Hamblin that traces the Hamblin lines back through royalty in England. It does have Ma…ry Hyanno listed on the pedigree chart. I inherited this from my mother, and it is in two sections because of folding. It is printed on the same type of plastic as my birth certificate (I guess that means I might be a little old !). Then I have a smaller version in a picture frame hanging on my family room wall. It has pictures of 31 coat of arms which have been colored in, and it is on paper. The writing is very small, but you can see Mary Hyanno listed on that as well. I tend to think that this has been documented enough to validate its authenticity.
Plastic probably means the artifacts are still after 1930 and the Franklin Bearse claim.
There is a very interesting nexus between the Barnstable and Middletown communities – they both host members of the Hamlin family!  James Hamlin was an early settler of Barnstable. Captain Giles Hamlin comes to Middletown in the 1650's. and is the next door neighbor of William Cornwell. Giles Hamlin is considered very likely to be the nephew of Jame Hamlin of Barnstable (per the "The Hamlin Family: A Genealogy of Capt. Giles Hamlin of Middletown, Connecticut, 1654-1900", by Henry Franklin Andrews, 1900).
Captain Giles Hamlin becomes a founder of the Middletown shipping trade, and actually ends up owning the bark "The Desire", the 3rd ship ever built in New England and the one which transported troops during the Pequot War. He has recorded travels from Pynchon's Springfield, MA to Boston and Plymouth.
If the Hamlin family lore  is the remaining strand that links back to Mary Hyanno, then there is the chance it was not back through James Hamlin of Barnstable but back through Giles Hamlin of Middletown.  James Hamlin's family does marry into the Bearse line. But not surprisingly, Giles Hamlin's family marries into the Cornwell line. Captain Giles Hamlin does a lot of shipping during this time.  If he is the nephew (or son) of James Hamlin, he could have been in New England as early as 1639.
Giles' wife was the daughter of John Crow – one of the founders of Hartford who came with Reverend Hooker as an original settler to the Connecticut River. Giles' could easily have been in the business of shipping as early as 1640 (he would have been 18 years old). The fact he is wealthy enough to live next to William Cornwell in 1654 (at 32) is a good indication he was more than just a sailor during the period 1640-1654.  He is too young and too late to introduce Cornwell to Barnstable  and the Cummiquids. But if Middletown is a shipping hub in 1640, Barnstable is a major port to Europe. So there is a tentative connection – as I said.
If there really was a Mary Hyanno, and there is a path through the Hamlin lore, it could lead to either Cornwell or Bearse.
With that said, I am not convinced there is such a path.  In reviewing the rebuttal of the original Bearse claim by Donald Lines Jacobus I noted something that caused me to realize a serious problem with the Bearse claims, and it surrounds why Franklin Bearse was making the claims in the first place. (Second source for Jacobus rebuttal is here).
Franklin Bearce was a steamfitter who lived in Mount Vernon, NY. He married a Swedish immigrant named Marie (as her second husband) and they had a single child that did not survive them. Born in 1878, in Allegan, Michigan, he was the son of a butcher, Noble Bearce, and his wife, Mary Ellen Blaine. In his 50's he became acquainted with several families living on the nearby Schaghticoke reservation in Kent, Connecticut, and began to insert himself into their affairs. In 1933 he applied to the Connecticut State Park and Forest Commission to be certified as a Schaghticoke Indian, but after an investigation, he was denied. His interest in the Schaghticoke was undiminished, however, and in 1939, and again in 1940, Mr. BeArce organized "Pow-Wows" near the reservation, which were attended by several thousand tourists. The 1940 event was promoted by Mr. Bearce as "American Indian Day", and he advertised himself in handbills as "Chief Medicine Man" and "Chief Medicine Sagamore". In 1939, Mr. BeArce called a meeting of the Schaghticoke community and convinced the attendees to allow him to initiate a land claim before the Indian Claims Commission on their behalf, claiming the Bronx, Manhattan, and a large part of Connecticut and New York. BeArce volunteered to do all the work entailed by the filing and he was thereupon unanimously elected "Chairman of the Schaghticoke Indian Claims Commission" by all 17 of those in attendance. The claim worked it's way through the federal Bureacracy and in 1954 was challenged on the grounds that BeArce had no standing as a non-Schaghticoke. He therefore called another meeting, and asked that he be accepted as a member of the tribe in order that he might continue the claim. In another unanimous vote, he was rejected.
Franklin Bearse wanted to be part of the Native American community. He specifically wanted to be part of the Schaghticoke reservation in Kent, Connecticut. And here is where a major historic disconnect comes in. The Nauset's of Cape Cod did not end up migrating en masse to Kent, CT. As I noted in part 3 of this series the Cummiquids (and other Cap Cod or South Sea Indians) tended to migrate to the Mashpee Reservation on Cape Cod. According to "The Mashpee Indians: Tribe on Trial" (by Jack Campisi, 1991):
English settlement continued well into the 1640s, when the public record shows the first mention of the Indians at Mashpee. In 1648 Paupmunnuck, "with the consent of his brother and all the rest of his associates," sold a piece of land to Barnstable.

…

In theocratic Plymouth, churches were among the first structures to be erected and ministers were quick to seek conversion of the natives, a process made easier by their losses and dislocation … The solution was to bring these disparate remnants to a few locations and establish Christian Indian towns, … Mashpee suited this purpose admirably. It had a resident Indian population that remained largely intact through the early years of English settlement.
Conversely, the Wangunks and other tribes West of the Wampanoag tended to migrate further westward to the Schaghticoke reservation in Kent, Connecticut:
The Schaghticoke (/ˈskætɨkoʊk/ SKAT-ə-kohk or /ˈskætɨkʊk/ SKAT-ə-kuuk) are a Native American tribe of the Eastern Woodlands who historically consisted of Mahican, Potatuck, Weantinock, Tunxis, Podunk, and their descendants, peoples indigenous to what is now New York, Connecticut, and Massachusetts.
"Mattabesset" (or Mattabesic) was another name for Sequin's/Sowheag's tribe, and from this source it is clear where they ended when they finally headed to a reservation:
Mattabesset or Mattabeseck refers to the Native American group which had its principal settlement at the Mattabeseck River of what is today Connecticut, United States. It is presumed that the portage offered the Mattabeseck additional opportunities for trade. The Mattabeseck River also forms an extensive swamplands where it meets the Connecticut, which would also have offered a variety of natural resources for exploitation.

…

The last lands of the Mattabesecks were a small section in Portland [Editor: originally Middletown] on the east side of the river, and a larger tract in the Newfield section of Middletown, still close to the Mattabeseck marshlands. The last remnants of the tribe left in the late 18th century for upstate New York, and were among the many New England Indian groups that merged with the Indians at Schaghticoke.
There you have it.  The tribes Franklin Bearse wanted to be associated with were not the Cummiquids of Barnstable, but the River Indians under Sequin/Sowheag. This may explain why Bearse 'discovered' a link between Iyannough and Canonicus.  He needed some bridge to the Indians at Schaghticoke. The Cummiquids/Nauset/Cape Cod/South Sea Indians would not provide a connection to the Indians at Schaghticoke.
Whatever the true story is, the Bearse claim is riddled with historic inconsistencies. There may not be a Mary Hyanno.  If there was, there is no proven link to the Indians at Schaghticoke. If there is a valid link in the Hamlin line to the Indians at Schaghticoke and Mary Hyanno, it is not likely to connect through Austin Bearse but would go through Middletown (or someplace else West of the Wampanoag Nation).
If left with only two choices – Bearse or Cornwell – I would say William Cornwell represents the more obvious option.  We know the Wangunk/Mattabesset had a family connection to Miatonomo, nephew of Canonicus and Sachem of the Narragansett through Sequin's/Sowheag's son Sequassen. If we need a linkage to the Wampanoag and/or Nauset, at least there is a recorded path.
But we are not restricted to just these two options. We also have the option Mary Hyanno never existed. Or if she did, she remained within her tribe, and her offspring ended up at Mashpee or Martha's Vineyard.
Under any an all options, I still maintain that Mary Cornwell could easily be of Indian descent. And if so, she was more likely to be a Princess of the Wangunk/Mattabesset tribe.
So here is my conclusion.  Neither William Cornwell's nor Austin Bearse's wife is Mary Hyanno!