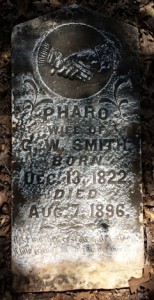 The family ancestor who really hooked me on genealogy was from my wife's maternal line. This person was believed by many relatives doing genealogy research to be the source behind the family lore concerning a Native American ancestor. The rumor was she was Cherokee, and those who passed the story from one generation to the next knew which generation she was since they all could quote their own percentage of Native American blood (each generation dividing the previous generation's % by half).
When I picked up the puzzle, "Pharo" Smith had been identified as being the mother of Nancy Jane [Smith] Hamilton. Nancy Hamilton had raised her family and lived out her life in Tishomingo, Oklahoma – not far from the part of Oklahoma my wife's family hailed from. The connection from my wife to Nancy Hamilton is well documented. So it was from Nancy to Pharo and then Pharo's roots I was  investigating.
These 4 posts (Part 2, Part 3 and Part 4) review the results of research and exploration by myself and distant cousins who descended from Pharo Hastings. They cover how we sifted records to discover family connections, how we were able to find the lost grave site of Pharo and her family in Oklahoma, and my continued research on which Indian tribe Pharo might have hailed from. They represent years of effort by many people, who have been able to recreate the life of Pharo and her family.
Part 1: What Census Records Uncovered
The earliest record the other family researchers had uncovered for Pharo and Nancy was an 1850 census from Choctaw County, MS; subdivision 23. In this record we have:
G W Smith – 29 yrs (born SC)
"Fay" Smith – 24 yrs (born SC)
Nancy Smith – 5 yrs (born MS)
William Smith 4 yrs (born MS)
Margaret Smith – 1 yr (born MS)
William Holl – 23 yrs (born GA)
One interesting fact is G W (George) and "Fay" indicate they cannot read or write, which might explain the various spellings for Pharo's name through the years.
The next record was the 1860 census of Choctaw County, MS: Township 21:
G W Smith – 39 yrs (born SC)
"Pherozine NA" Smith – 34 yrs (born SC)
Nancy Smith – 16 yrs (born MS)
William Smith 13 yrs (born MS)
Margaret Smith – 11 yrs (born MS)
Wiott Smith – 9 yrs (born MS)
Joseah Smith – 7 yrs (born MS)
John Smith – 5 yrs (born MS)
Benjamin Smith – 4 yrs (born MS)
George Smith – 6 mos (born MS)
This record has generated a lot of interest because of the attempt to spell Pharo's name – which may indicate an effort to translate a native American name into English – and because of the notation "NA". Some folks postulated "NA" stood for "Native American", except that term was not in use in the mid 1800's.
Further research shows "NA" may have been a designation for "Naturalized American".  From this source (among many) the process of becoming American during this period was very much an individual declaration:
Beginning with 1795 a person could declare their intent to become a citizen at any time after they arrived in the United States. A few people did this almost immediately upon arrival.

The Declaration of Intention requirement ended in 1952 (although immigrants can still file a declaration if they want to; it is optional).

…

There was a 5 year residency requirement (in the U.S.) to become naturalized (raised to 14 years in 1798, lowered back to 5 in 1802).

Generally minor children (not born in the U.S.) could derive citizenship from their father when their father naturalized.

From 1855 to 1922 alien women became citizens automatically if they married an American citizen. Women could derive citizenship from their spouses until 1922 when the law was changed…
So it is my opinion that the "NA" in this record indicates "Pherozine" is a Naturalized American, and probably native American. We will return to the spelling of the name when we explore which tribe Pharo probably belonged to.
In the 1870 census for Choctaw County, MS; Township 21, Range 11 we find:
"Pharo" Smith – 45 yrs (born SC)
William O Smith 23 yrs (born MS)
Margaret A Smith – 21 yrs (born MS)
Thomas B Smith – 12 yrs (born MS)
George ML Smith – 10 yrs (born MS)
Sarah A Smith – 8 yrs (born MS)
A lot happened to the family during the 1860's. G W passed away in 1862, and was buried in what is now called Mantee, Webster County, MS (see here). The son John K Smith died in 1861 at age 6. He is also buried in Mantee (see here). I have never discovered what happened to sons Wiott or Joseah.
On the positive side, Nancy Jane married George R Hamilton (from Oktibeah, MS) in 1870 and is living next door to Pharo in the census. Pharo's other neighbors will play a key role in determining Pharo's and GW's family roots back in South Carolina.
More changes were on the horizon after 1870. On April 6, 1874 Sumner County was organized from parts of Chickasaw, Choctaw, Montgomery, and Oktibbeha Counties. By January 30, 1882, its name was changed to Webster. Unfortunately, during these times, there was a lot of local resistance to where the county seat was established, which moved between two different locations.  In both locations, vandals set fire to the court house and critical records were lost (see here).
This has left no state-level record of the family during their years in Choctaw/Webster County MS. No death records, no marriage records – nothing that I can find.
As noted, for a brief time Webster County was named Sumner County, which happened to coincide with the 1880 census. In the 1880 census we find Pharo living in Sumner County, MS with her youngest daughter Sarah:
"Phars" Smith – 55 yrs (born SC)
Sarah A Smith – 18 yrs (born MS)
Of the surviving children we have the following.
Nearby is the quickly growing family of Nancy Jane and George R Hamilton.
Second eldest daughter Margaret has married George's brother Thomas Hamilton, and they too live nearby starting their family.
William O has moved to Mountain, Montgomery County, Arkansas and married Lizzie Elders (who we will see in a later post is buried next to Pharo in Oklahoma).
Thomas Benjamin Smith has married Ellender Lamb, has moved to Clay MS and has a 1 year old daughter named "Phara" [Pharo Sarah Smith].
Youngest son George McDuffy Smith has also moved to Clay MS next to his brother and has married Ellender's sister Melvina Lamb.  They have a young son Pomoroy Smith.
Nearby Pharo in Sumner are the following families:
Jacob Hastings; born in VA in 1811; wife Narcisuss
Benjamin James; born in SC in 1817; wife Maria A.
Matilda Howard; born in SC in 1814; widow
David Ross; born in SC in 1800; widower
James P Wofford, born in SC in 1817; wife Margaret
Jeremiah Wofford, born in SC in 1798
Julia Cole, born in SC in 1824, widow
This is basically where I picked up the trail of Pharo Smith – 4 census records from Choctaw/Sumner County MS.  There were (and still are) very few clues to where Pharo came from, and there was no indication of what happened to her after 1880. As most people know who do extensive family research, the 1890 census records were lost in a fire in 1921. The location of William O Smith in Arkansas was actually very challenging, which will become clear when the hunt for Pharo's burial place is explored
In the next post I will show how these neighbors and other records provide a link back to Pharo's family in South Carolina.
In the the third post I will highlight the major breakthrough in discovering the resting place of Pharo – and why I call her "Pharosima" in the title of these posts.
In the final post, I will endeavor to identify her tribal heritage.