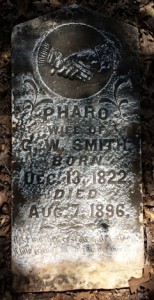 In the previous two posts (Part 1 and Part 2) I laid out the back story of my wife's 4th Great Grandmother – Pharo (Hastings) Smith. In this post I will review the search for Pharo Smith's grave and how Ellen Herriman (a distant cousin) was able to physically locate and document the site.
Part 3: Pharo's Final Resting Place Discovered
As I noted in Part 1 of this series I began my obsession with genealogy research by investigating Pharo Smith and her claimed Native American heritage. This began back some time in 2010 . At that time genealogy sites like Fold3 and Find-A-Grave where just coming into their own. As was the effect of thousands of people filling in their own family information and creating an explosion of data available to search.
When I began my research I had no idea where Pharo Smith (and her husband George) ended up. Find-A-Grave was still a separate entity from Ancestory.com (my initial resource along with Family Research). So for years the entire family seemed to have just disappeared.
Sometime in 2012 Find-A-Grave records became accessible on Ancestry.com, and suddenly we had a huge lead. An abandoned cemetery near Ardmore in Carter County, Oklahoma called "Smith" cemetery had been documented many years prior by a Bill Hamm (see here for the original data available). While it had been on the web for some time, I did not run across it until 2012. One thing to note is how all we had from this data were names and dates. When the cemetery was rediscovered in 2013 we learned each head stone also had inscriptions, which helped us identify each person interred there.
The original Bill Hamm record is important in that it lists the general area where the site was found:
SMITH CEMETERY is named this only because that is the name of the person with the oldest stone. It is an abandoned cemetery and cannot be found without direction. There is no road to the cemetery and is extremely overgrown. The location is Range 2E, Township 5S, Section 14.
From this information – the hunt was on. I tried to contact the website coordinators only to find Bill Hamm had passed away many years prior. That left me to do research on my own. I began with plotting the the location. Thanks to Google Earth you can plug in the Range, Township and Section and get a view of the area.
The following Google Earth snapshot shows the location of Range 2E, Township 5S, Section 14 (pink pin – click image to enlarge):
As can be seen this area is near the southern boarder of Oklahoma. In the 1890's this was the Chickasaw region of The Indian Territory. This next images zooms us in a little closer to show Range 2E, Township 5S (orange square with orange pin at center) and Section 14 (purple square and pin):
As can be seen here, Ardmore, OK is on the north west edge of the Township, and much of the area has be subsumed by a man-made lake created in the early 1900's. We then zoom in some more to indicate the major highways:
Distant cousin Ellen Herriman and her father embarked on a great adventure in the summer of 2013 to find the lost graveyard. We provided some initial maps (current and from an 1895 survey) to focus their search. They were successful, and discovered a treasure trove of information.
Ellen took photos of the head stones and foot stones for each grave (they can be seen here at Find-A-Grave – just select the individual of interest). What we discovered from the photos was that the family was financially well to do.  The head stones are ornately carved with inscriptions and an image, and the use of foot stones indicates serious personal wealth. Pharo's head stone is at the top of this series of posts.
And there was more. The inscriptions were more than name, birth and death.  They included relationships.
Here is the list of people interred at Smith Cemetery:
GOULD, EFFIE D (born: 27 AUG 1892 – died: 28 OCT 1895)
GOULD, HENRY D (born: 27 JUN 1895 – died: 20 MAR 1896)
HAMILTON, MRS M A (born: 6 MAR 1849 – died: 29 JUL 1894)
HAMILTON, URETHA J (born: 23 MAR 1887 – died: 24 AUG 1896)
MCHAM, MARTIN (born: 18 JUN 1893 – died: 22 JUN 1893)
MCHAM, RUFUS (born: 18 JUN 1893 – died: 22 JUN 1893)
SMITH, LIZZIE (born: 1860 – died: 2 FEB 1893)
SMITH, PHARO (born: 13 DEC 1822 – died: 7 AUG 1896)
SMITH, ROBERT R (born: 3 NOV 1887 – died: 14 SEP 1894)
From these inscriptions in the photos we were finally able to learn who "Lizzie" Smith was.  Her stone identifies her as the wife of William O Smith, oldest son of Pharo and George Smith (and who I believe died in 1889 and is buried in Arkansas).
Robert Smith was Pharo's grandson. His father was Thomas Benjamin Smith ,who married Ellender Lamb.
Mrs M. A. Hamilton is Pharo's second eldest daughter Margaret A Smith. She had married Thomas Benjamin Hamilton, who was the brother of her older sister's (Nancy) husband.
Uretha J Hamilton is the daughter of Margaret's older sister Nancy Jane, who married George Russell Hamilton. It is Nancy Jane (Smith) Hamilton who my wife descends from.
Effie and Henry Gould were the children of Sarah A (Smith) Gould – Pharo's youngest daughter. As noted in Part 2 of this series it was Sally A Gould's death certificate that sealed the connection between Pharo Smith and the Hastins family of Spartanburg, SC.
We are still working on how the McHam twins relate to the family. There were McHam's back in Spartanburg, and there are theories that McHam was the guide from Mississippi to the Chickasaw region of Indian Territory.
What we learn from this grave site is that Pharo's entire family seems to have migrated to this locale after 1880 (where we left them in Sumner (Webster) County, MS). The site includes Pharo, her daughter Margaret, children of her daughters Nancy and Sarah, a son of Thomas Benjamin Smith and the wife of her deceased eldest son William O Smith.
As part of my effort to locate the grave site prior to Ellen Herriman's visit in 2013, I did run across a very interesting artifact. As the Indian Territory of Oklahoma was being prepared for statehood, survey crews were out mapping the region. In 1897 a survey was done of this area.  Below is part of that survey with the Section 14 of Range 2E, Township 5S identified in blue (click image to enlarge):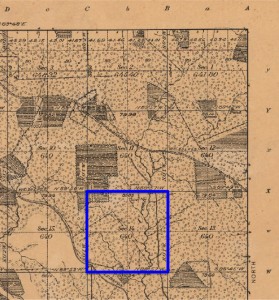 Note all the farms surrounding this area.  Given how many families moved with Pharo to the region, one or more of them could be family farms. My guess is Pharo may have had her own place with her family nearby, or she could have been living with Nancy and George Hamilton (or any of the families).
This next image shows the site of Smith Cemetery (red/yellow star) and the nearest farm/house.  It would seem logical this homestead was one of – or the – home for Pharo and her family.
In the fourth and final installment of this series on Pharo (Hastings) Smith I address her Native American heritage and possible tribal connection.