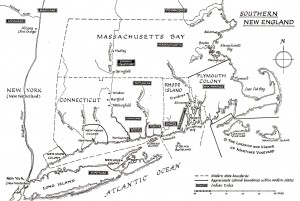 Updated 12/1/14 for editorial clean ups.

Updated 12/7/14 to address the alleged lineage between Iyanough and Canonicus
I thought I knew where most of my family roots led back to, or at least I was confident we would not be tracing back to the very beginnings of the country in New England. But as with most families who have  roots stretching back to before the Revolutionary War, I should have known there was a high probability we would discover a trail back to those settlements we all learned about in school.
And given I am writing this the day before Thanksgiving 2014, it should also not surprise me (anymore) there may be a path back to some of the major players in the first Thanksgiving in 1621. Interestingly enough, if there is a path it runs along the Native American tribes who were inhabiting the Plymouth Colony at that time [click image above for a larger version].