This post is about my grandfather on my mother's side.  2014 was a tough year for my mother, first losing my father on May 24, 2014 and then losing her brother on December 14th. So I decided to do a tribute to her father. The above picture hangs in the Parma, OH City Hall. My grandfather was Mayor of Parma from 1934-1935 [click all images to enlarge]. At the time  of this phase of his life Anthony was ~34 years old. His life story is a very interesting one, embodying the American Dream of immigrants to this country.  I will begin with his early life growing up.
Anthony Fleger was born October 21, 1900 in Resita, Caras-Severin, Romania as Antonin Herczog. Resita was, at the time, part of the Austrian-Hungarian Empire, which would disappear by 1918.  To get some perspective, the red flag is Resita in current day Romania: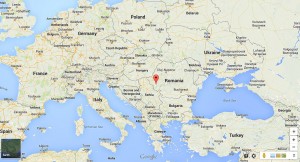 My mother has a birth certificate copy from 1936, which can be seen here: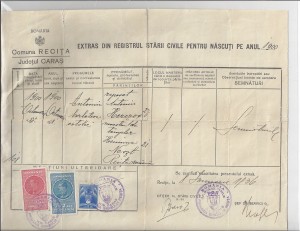 The certificate is not completely translated (for instance I have yet to translate the second handwritten word in the 3rd column and a lot of the 4th outside the names).  I can translate everything type written, it is the penmanship giving me troubles. What I can decipher is the 3rd column gives the name of the baby (Antonin), and his religion (Catolic = Catholic). The fourth/fifth columns indicate the father Antonin Herczog/27 and mother Hermine Naszt/21 from Recita.
One day not long ago my Uncle just stated out of the blue his grandfather (Antonin Herczog) died a week after his father was born. So we know my grandfather and his sister (also named Hermine and two years older than Anthony/Antonin) were without their father at a very young age. My great grandmother Hermine (Naszt) Herzcog was left to care for two young children at the age of 21.
I believe Hermine (Naszt) Herzcog was introduced to her second husband (Jospeh Fleger) by one or both of her two brothers (Bela "Albert" Naszt and Felix Naszt). The one picture I have of Joseph Fleger (see below) with my grandfather as a young boy includes the Naszt brothers. So I am speculating they were all friends back in the old country given the order of their arrival here in the US.
Of Anthony's immediate family, the first to immigrate was his mother Hermine Herzcog, who had an interesting companion. The following screen capture is from the 1903 passenger list of the SS Bremen sailing out of Bremen Germany and arriving in New York City on September 22, 1903. It shows Josef Fleger (age 22) traveling with Hermine Herczog (age 22).

Hermine Herczog and Josef Fleger were married on May 16, 1904 in Cleveland, Ohio (per state records on-line). Then in October 1904 Hermine's mother (named Hermine (Hollenschwantner) Naszt) brings Anthony (now 4) and his sister Hermine (3rd generation of "Hermine") to America aboard the SS Zeelander. Here is the record of that arrival on October 31, 1904 at New York City:
This record shows at line "25" Hermine Nast (age 47)  "+grch" = meaning grandchildren.  Hermine Herzog is listed, while young Anthony is just "+bro" = brother.
All three join Hermine and Josef Fleger in Cleveland Ohio, where all but Anthony spend the remainder of their days. It turns out the SS Zeelander was quite a ship in its day. It went into service for the Red Star Line in 1900 – see here for postcards of the ship and its accommodations. Here is a picture of the ship itself.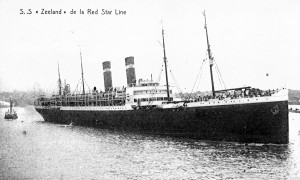 Imagine being 4 years old and coming to America with your 6 year old sister and grandmother via New York City on your way to Cleveland Ohio.  The only thing I can figure out is the Naszts had some serious money, given how many family members immigrated to the US in a decade, and apparently how they traveled in some form of style.
According to his Naturalization papers Bela "Albert" Naszt came to America first, before his sister Hermine and Josef Fleger. He arrived at New York City on July 17th, 1903. He was the youngest of the three Naszt children, but clearly the most adventurous.  He was single when he immigrated to America. He later married Anna Moritz in 1906 in Cuyahoga County, Ohio.
Hermine and Josef came soon after in September of that same year, followed a year later by the elder Hermine Naszt and her two grandchildren.  The oldest Naszt (Felix) did not bring his young family over until 1909.
Here is the one and only picture I have of Joseph Fleger (far left), with a young Anthony Fleger (2nd left or front row).  I believe the final two gentlemen to be Albert and Felix Naszt (middle back row and far right):
Sadly, Joseph Fleger – who gave my mother and uncle the family name Fleger – died in 1917 many years before they were born.  They never knew the man behind the Fleger name.
Hermine next married the bartender at the restaurant/bar she and Joseph ran in Cleveland – a man named John Petru.  John Petru is the father my mother and uncle knew. I believe this is a picture of Hermine (Naszt) Herczog/Fleger/Petru and John Petru working in the yard:
John Petru died in 1943.
My grandfather went on to marry Mary Theresa Nemec (or Namik) around 1922. Her family had immigrated to the US just before the turn of the century from Czechoslovakia.  Here is the wonderful picture of their wedding day:
Being a US Congressman, Anthony's life was well documented for Congress.  Here is the complete biography of record – note some inconsistencies with the immigration records above:
Fleger, Anthony Alfred: a Representative from Ohio; born in Austria-Hungary October 21, 1900; in 1903 immigrated to the United States with his parents, who settled in Cleveland, Cuyahoga County, Ohio; attended the public schools and was graduated from John Marshall School of Law, Cleveland, Ohio, in 1926; was admitted to the bar the same year and commenced practice in Cleveland, Ohio; moved to Parma, Cuyahoga County, Ohio, and continued the practice of law; served as justice of the peace in Parma, Ohio, 1930-1932; elected a member of the State house of representatives in 1932 and served from January 1, 1933, to December 31, 1933, when he resigned, having been elected mayor of Parma; served as mayor from January 1, 1934, to December 31, 1935; elected as a Democrat to the Seventy-fifth Congress (January 3, 1937-January 3, 1939); unsuccessful candidate for reelection in 1938 to the Seventy-sixth Congress and for election in 1940 to the Seventy-seventh Congress; resumed the practice of law in Cleveland, Ohio; served as special assistant to the Attorney General, Washington, D.C., from March 3, 1941, to July 9, 1950, and as an attorney in the Department of Justice from July 10, 1950, to May 9, 1953; engaged in the practice of law in Washington, D.C., and resided in Oxon Hill, Md.; died in Alexandria (Va.) Hospital July 16, 1963; interment in Holy Cross Cemetery, Brook Park, Ohio.
Interestingly, he moved to the Washington DC area before my parents did to take a job at the Department of Justice. (1941-1950). My parents met in 1945 in Cleveland while they were in college.  My Uncle was probably in DC with his father attending school (and working as a Page on Capitol Hill).
Here is a picture of my Uncle, Grandmother, Mother and Grandfather – I believe circa 1940's – at Georgetown University in DC.
After retiring from the Department of Justice, my grandfather invested and worked in real estate. I was 3 years old when he passed away, and I have only vague memories of him.  What I do remember is he always brought us a Corgi animal or car when he visited. I can only wish I had known him more.