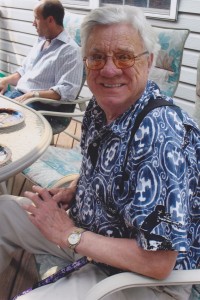 By Alan John Jeffries
John Jeffries Junior passed away peacefully today (May 24th 2014) in Reston, Virginia. He is survived by his wife of 70 Years Corinne (Fleger) Jeffries; daughter Melinda Lasater; sons Alan Jeffries and Robert Jeffries; granddaughters Ashley Nikolic, Danielle Hedgepeth, Alyse Lasater, Jackie Jeffries, and Amber Jeffries; and grandson Sean Jeffries; and great grandson Cameron Hedgepeth; as well as many loving cousins, nieces and nephews.
This post presents a mini-biography of our father so others can learn about this great man.
John was born on October 28, 1921 in the wild and wonderful hills of Grafton, West Virginia.  His mother, Veda Pearl Shriver, can trace her family roots back to the early pioneers of this one time frontier of Virginia. His father, Virgil Luther Jeffries, also can trace his family back to the mid 1800s. In future posts I hope to explore the family histories of John's parents. But today we focus on John.